Possible Syria strike: 5 things to pay attention to today
Obama's approval rating on foreign policy is down, and a poll shows U.S. war weariness
Ed Payne | 9/10/2013, 10:07 a.m.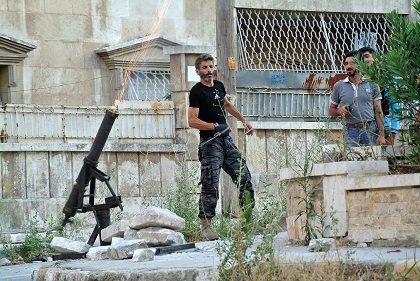 CNN — President Barack Obama's war drums continue to beat, but an offhand comment from Secretary of State John Kerry has set in motion a diplomatic effort by Russia -- seized on at the United Nations -- to ward off a U.S. strike on Syria in favor of mediation.
What Kerry said was that Syrian President Bashar al-Assad could prevent a strike if he "could turn over every single bit of his chemical weapons to the international community in the next week." Kerry added that Syria would not be willing to do this.
Russia has latched on to the proposal, and Syria says it is taking the idea seriously.
The view is that Kerry's comment is either an accidental out for a president hemmed in by his own red line, or a momentum-sucking goof that may have erased any chance Obama had to engage in a military strike without broader international approval.
Will Russia's proposal delay an Obama strike? And how can Obama sway Americans to support military action? With his approval ratings on all fronts tanking, his prime-time televised address Tuesday night will be crucial. It'll be the administration's closing argument after a week of courting lawmakers.
Here are five things to look for today.
1. What Obama says in his speech
The president will still make the case that Congress must authorize military force in Syria, a senior administration official told CNN. This, despite the fact that Obama believes Kerry's offhand offer for Syria to turn over its chemical weapons could bear fruit now that Russia and the United Nations have jumped aboard.
The link between the two? The administration argues that the offer to turn over chemical weapons wouldn't be on the table if not for the threat of force.
A senior administration official told CNN that Kerry's not in trouble with the president for the comment, but does admit that it was off the cuff while restating administration policy. Bottom line: It wasn't inconsistent with what was happening behind the scenes, according to the official.
To make his case for a military strike, the president will lay out what happened in the chemical weapons attack in Syria on August 21, and why it's in America's interest to act. He'll argue that the United States can't let this kind of attack go unanswered, and he'll tell us how he sees it affecting the safety of U.S. troops.
And perhaps the toughest one of all, he'll tell a nation weary from more than a decade of war why Syria isn't Iraq or Afghanistan.
2. Whether Russia's diplomatic volley has knocked the steam out of a strike
The White House isn't acting like it has. If anything, the lobbying on Capitol Hill is intensifying ahead of the president's address.
It all starts with Obama, who will go to the Hill on Tuesday to make his case to Senate Democrats, a Senate leadership aide told CNN. Making sure to hit both sides of the aisle, the president also will attend the Senate GOP lunch, a Senate Republican aide said.