Obama opts for diplomacy instead of war
George E. Curry | NNPA | 9/11/2013, 10:51 a.m.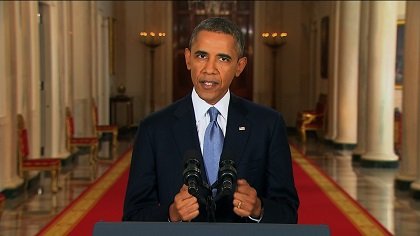 continued — "If fighting spills beyond Syria's borders, these weapons could threaten allies like Turkey, Jordan, and Israel. And a failure to stand against the use of chemical weapons would weaken prohibitions against other weapons of mass destruction, and embolden Assad's ally, Iran — which must decide whether to ignore international law by building a nuclear weapon, or to take a more peaceful path. This is not a world we should accept. This is what's at stake."
Obama provided graphic descriptions of the toll the turmoil in Syria has taken on its citizens. On Aug. 21, according to U.S. officials, Assad forces used chemical weapons that killed more than 1,400 people outside Damascus, many of them children. Obama said that put the death toll in Syria to at least 100,000 at the hands of Assad's administration.
The president said he understands the reluctance engage in another war.
"Now, I know that after the terrible toll of Iraq and Afghanistan, the idea of any military action, no matter how limited, is not going to be popular. After all, I've spent four and a half years working to end wars, not to start them," he said. "Our troops are out of Iraq. Our troops are coming home from Afghanistan. And I know Americans want all of us in Washington – especially me – to concentrate on the task of building our nation here at home: putting people back to work, educating our kids, growing our middle class."
Still, the president said, the U.S. has a vested interest in what happens in Syria.
"After careful deliberation, I determined that it is in the national security interests of the United States to respond to the Assad regime's use of chemical weapons through a targeted military strike. The purpose of this strike would be to deter Assad from using chemical weapons, to degrade his regime's ability to use them, and to make clear to the world that we will not tolerate their use."