Baby Buggy Walk in Druid Hill Park
Walk promotes fitness, family, fun
Ursula V. Battle | 9/13/2013, 9:42 a.m.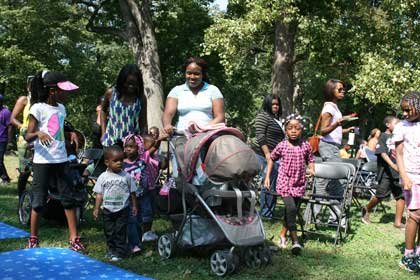 continued — "Obesity is also linked to heart disease, hypertension, diabetes, and many other diseases," said Roberts. "That doesn't include knee and hip replacements, which in many cases are caused by obesity. This event is a festival, but it also seeks to spread a fitness and nutrition message."
The Baby Buggy event will also feature healthy meal demonstrations by local chefs and nutrition experts, health information and screenings, vendors, and activities for children including a moon bounce.
Maryland's Health Secretary, Dr. Joshua Sharfstein Dr. J. Nadine Gracia, Deputy Assistant Secretary of the U.S. Department for Minority Health, Balti
more City Council President Bernard C. "Jack" Young, and Baltimore City Councilman Nick Mosby, and representatives from Black Girls Run running club will also be participating in the event.
The event started last year in Baltimore, and has since grown to include 20 other U.S. cities, which will also be holding their own Baby Buggy events.
"We are very proud of the fact that this event is now nationwide," said Roberts. "Locally, we are hoping to get 300 to 400 participants. Buses will also be all over the city transporting people to and from the event free of charge."
She added, "We can say this event was a success when at least 100 people would have walked, finished, and said, 'I didn't think I could do it.' We are going to encourage them to continue to do what they have started by walking steps and doing other fitness exercises."
For more information about the event, contact Francine Tucker at 410-396-7318 extension 212.