Serena's World: Is Tennis Diva Serena Williams GREATEST FEMALE ATHLETE?
Kenneth Miller | Special to the NNPA from the Los Angeles Sentinel | 9/17/2013, 9:53 a.m.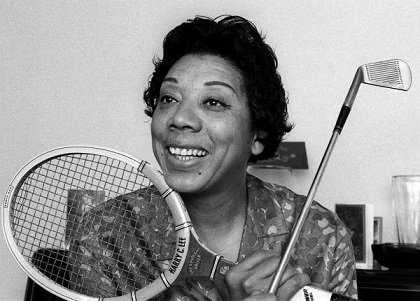 The forever evolving rags to riches journey of the world's No. 1 women's tennis player Serena Williams is beginning to catapult into a sports stratosphere where only the elite athletes of all-time hang out.
After winning her 9th singles championship in 2013, the younger sister of Venus Williams is not just relishing in the soils of her impressive U.S. Open championship, but also bidding to become the greatest female athlete in history.
Don't trip over your tennis racquets just yet, but after Grand Slam title number 17 to move to within 7 of all-time Margaret Court's 24, the 31-year old who learned the game on the uneven asphalt courts of Compton is smoothly gliding into rare territory.
From the time she was the No. 1 ranked on the junior United States Tennis Association tour at 10-years old when she blistered competition in rolling to a 46-3 record, Serena Williams loved the taste of winning.
Daddy Richard rolled out the older Venus first, breaking age barriers at 14 on October 31, 1994, but while incubating the gem that was to follow at the same age in 1995.
Now, all grown up and having surpassed Venus in the sibling rivalry and striking the fear of God into ever opponent she faces on any surface, grass, hard-court or clay, it's time to examine her alongside the greatest female athletes ever.
Keep in mind that Serena is far from being done as a professional tennis player and in addition to enduring a recent life health scare has also had to carry the weight of the murder of her sister Yetunde Price and the divorce of her parents Richard and Oracene.
She has a combined 31 career major championships including doubles competition with sister Venus and four Olympic gold medals, including two singles.
Her lofty credentials include winning 80 percent of her career tournaments, 79 of 99 and on every surface; 34 on hard court; 10 on clay; 6 on grass and 5 on carpet.
Moreover, she has captured the most prestigious Wimbledon and U.S. Open championships five times each.
Oh, by the way she owns a career .500 record against arguably the greatest women's player of all time Steffi Graf.
She has earned close to $60 million in prize money plus another $30 million endorsements for cool $90 million.
The only argument that anyone can have against Serena as the best female athlete of all time, is that she's feisty, confident, soulful and sexy –all the more reason fro me to love her.
Many would consider the best female athlete to be Jackie Joyner-Kersee who was the first American to win gold for the long jump and the first woman to earn more than 7,000 points in the seven-event heptathlon. She's ultimately won three golds, a silver and two bronze, making her the most decorated female athlete in Olympic track and field history.
Former professional tennis player, Althea Gibson
Following Joyner-Kersee would have to be the late Florence Griffith- Joyner, also known as "Flo Jo," who starred at the 1984 Summer Olympics winning a silver medal in the 200-meter run. During the 1988 Summer Olympics in Seoul, South Korea, Griffith-Joyner took home three gold medals and a silver. She still holds world records in the 100 and 200 meters.