Serena's World: Is Tennis Diva Serena Williams GREATEST FEMALE ATHLETE?
Kenneth Miller | Special to the NNPA from the Los Angeles Sentinel | 9/17/2013, 9:53 a.m.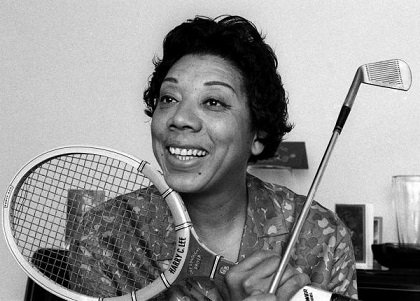 Track & Field Olympic gold medalist, Jackie Joyner-Kersee
Althea Gibson opened the doors for Serena and Venus. Her great talent was in tennis, but in the 1950s, most tournaments were closed to African-Americans. Gibson kept playing until her skills could no longer be denied, and became the first African American to play at Wimbledon.
"I have never regarded myself as a crusader. I don't consciously beat the drums for any cause, not even the negro in the United States," Gibson said of her pioneering efforts.
Wilma Rudolph would certainly have to be in the conversation. Born a sickly child who had to wear a brace on her left leg, Rudolph She overcame her disabilities through physical therapy and hard work, and went on to Rudolph became the first American woman to win three gold medals at a single Olympics in 1960, at the Summer Games in Rome.
Another track and field sensation Allyson Felix earned back-to-back Olympic silver medals at the 2008 Olympic Games in Beijing. She earned her first gold that year, with the women's 4-by-400-meter relay team. Felix became a three-time Olympic gold medalist in 2012; at the 2012 Olympic Games in London, she won two gold medals, in the women's 200 and the 4-by-100-meter relay.
WNBA professional basketball player, Sheryl Swoopes
Alice Coachman made history at the 1948 Olympics in London when leapt to a record-breaking height of 5 feet, 6 and 1/8 inches in the high jump finals to become the first Black woman to win an Olympic gold medal, but that alone would not even qualify her as best.
Basketball icon Sheryl Swoopes would have to be in the mix. Swoopes was the first professional basketball player signed by the WNBA and was often referred to as the female Michael Jordan.
Swoopes won three Olympic gold medals and is a multiple WNBA MVP. She is also the first woman to have a Nike shoe named after her.
Another hoop star Teresa Edwards won four Olympic gold medals (1984, 1988, 1996, 2000) – an Olympic record — and a bronze medal (1992). Edwards also won the USA Basketball Player of the Year in 1987 and 1991.
WNBA professional basketball player, Lisa Leslie-Lockwood
Cheryl Miller's achievements on the basketball court are undeniable. She was a four-time All-American, and she also won three Naismith Player of the Year trophies while at USC.
However, Lisa Leslie-Lockwood is probably considered the best basketball player ever.
Leslie-Lockwood was a three-time WNBA MVP and a four-time Olympic gold medal winner. She was considered a pioneer and cornerstone of the league during her WNBA career. In 2011, she was voted in by fans as one of the Top 15 players in WNBA history.
Billy Jean King won a wealth of Grand Slam titles in singles tournaments, doubles tournaments, and even occasionally in tournaments that she didn't even attend, but it doubtful she could beat Serena.
Let the debating begin, but in the meantime I consider it Serena-Love!