U of M professor and breast cancer researcher was once homeless
Ursula V. Battle | 9/20/2013, 5:57 a.m.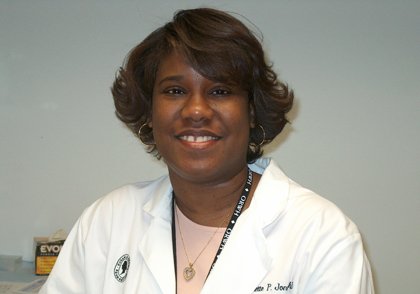 continued — She made the most of her scholarship opportunity at Morgan State University. She graduated, and went on to attend Johns Hopkins University, where she earned her Ph.D.
Prior to joining the faculty at the University of Maryland Baltimore, she worked for the National Institute of Health (NIH) and Georgetown University.
"When people are homeless, it's not the end of the line," said Dr. Jones. "Telling my story gives people hope. I believe God has placed me here to be an inspiration to others."
On Thursday, September 19, 2013, Dr. Jones participated in the second annual Project Homeless Connect-Baltimore at the Baltimore Convention Center as a volunteer. The event was sponsored by the United Way of Central Maryland and the Baltimore City Mayor's Office of Human Services, Homeless Services Program (MOHS-HSP).
The event provided on-site services for the local homeless community, such as medical exams and screenings, haircuts and legal advice.
"It's so important that we help others. God places people in our lives to help them. The person you are helping could be the next lawyer or doctor."
Dr. Jones recalled another conversation with "Coach Bradford" that she will never forget.
"I went back to Fairmont Heights High School and found Coach Bradford to thank him," she said. "I owed it to him to tell him thanks for seeing something in me that I did not see in myself. He was really moved. There were many others who helped, but it started with him."