Don't believe the hype: A college education still matters to black students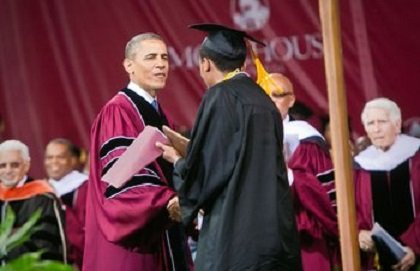 My third and final point is based upon the thoughts of Ben Casselman, a writer for the Wall Street Journal "Better-educated workers still face far better job prospects than their less-educated counterparts, says Casselman. "The unemployment rate for Americans with at least a bachelor's degree was 3.8 percent in February, compared with 7.9 percent for those with just a high school diploma.
He offers another compelling reason poor and minority students should seek a degree. "College-educated employees also tend to earn more and advance more quickly even when they are in fields that don't require a degree. But as college-educated workers have been forced to take lower-level jobs, they have displaced less-skilled workers, leaving those without degrees with few job options."
In the words of Public Enemy: "Don't believe the hype." A college degree is still one of the best investments a young black person can make. When the economy improves, who do you think will be at the front of the line for the best paying jobs? All those college educated waiters and sales clerks. My advice to secure your highest place in the work world is to do whatever is necessary to earn your degree.

Jayne Matthews Hopson is development officer for the Waldorf School of Baltimore. She believes education matters because "only the educated are free."