Carnell Cooper and Jessica Turral selected as 'Hometown Heroes'
Ursula V. Battle | 4/4/2014, 6 a.m.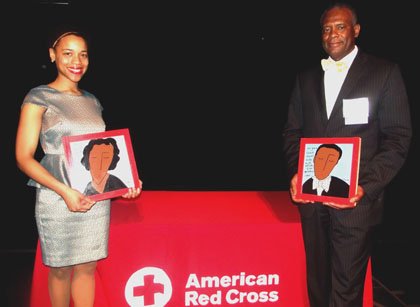 BALTIMORE — Dr. Carnell Cooper Associate Professor of Surgery at the University of Maryland School of Medicine, noticed that victims of traumatic violent injury were being treated and released from the hospital but then readmitted months later due to another, often more serious, violent injury. To address this issue, he founded the Violence Intervention Program (VIP) at the University of Maryland School of Medicine, R. Adams Cowley Shock Trauma Center.
Jessica Turral saw a need to provide young males under the age of 18 who have been incarcerated and charged as adults, with mentors, academic enrichment and other services. To address this need, she founded Hand in Hand Baltimore, a non-profit that partners with these young men, and ultimately gives them a chance for a better and brighter future.
Cooper and Turral were among the people honored by The American Red Cross of the Chesapeake Region during their "2014 Hometown Heroes" ceremony. The event took place Thursday, March 27, 2014 at The Lyric Opera House.
This marked the 16th year of the event, which honors local community members who have made a philanthropic impact in Maryland through their contributions and services.
Dr. Cooper was the recipient of the "Homeland Hero" Award for work within the public service sector that demonstrates an exceptional commitment to the mission and clients of the organization he serves.
"We do what we do because it's something that we think needs to happen," said Dr. Cooper. "We found a problem, and felt we could initiate a solution to solve it."
Dr. Cooper founded VIP in 1998. Those who meet the program requirements receive assessment, counseling, and social support from a multi-disciplinary team to help make critical and positive changes in their lives.
"We feel very fortunate that we are able to work with the folks that we do, because we love what we do," said Cooper. "It's very satisfying, and we are passionate about it. Every day, we get the satisfaction of seeing 'thank you' on the faces of our clients. When we get an organization like the Red Cross who thinks so highly of us to present us with such an award, it's a great experience and very endearing."

The "Young Professionals" Award is new for 2014, and honors an individual under the age of 40 who has made an impact in the area of social justice. Turral was the Award's inaugural recipient. Turral founded Hand in Hand Baltimore in 2009. The non-profit also provides counseling and case management to its clients prior to and upon their release from adult facilities.

"I feel honored to have received the award," said Turral. "It's always nice when you can get an award. I look at it as a way of sharing the difficult lifestyles that my young people have had to experience. Their stories get untold a lot, so it's nice when I'm honored. However, I hope that people really focus on the young people that I work with, because they are the ones that are really the heroes in my eyes."