Carnell Cooper and Jessica Turral selected as 'Hometown Heroes'
Ursula V. Battle | 4/4/2014, 6 a.m.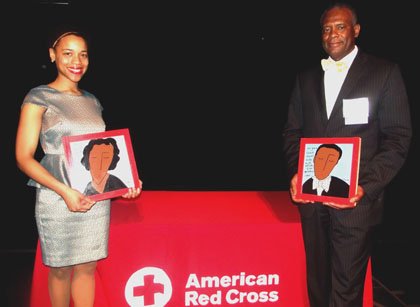 continued — She added, "They are making the decision to no longer commit crimes, making the decision to move out of their neighborhoods, and making the decision to be the first person in their family to get a high school diploma. Standing here, I am just proxy for the work that they are doing."
Alec Ross, former Senior Advisor of Innovation to Secretary of State Hillary Clinton, was the recipient of "The Gene Williams Chairman's Award" for his leadership in the area of social justice. Ross began his career in Baltimore as a member of the Teach for America program and later created the breakthrough philanthropic program, Text To Donate, which raised $40 million worldwide for the earthquake in Haiti. Ross also delivered the keynote address for the Hometown Heroes event.
McCormick & Company was the recipient of the "Mission Partner" Award, which honors an individual or organization that is making a direct, grassroots impact within the Chesapeake region. Since its inception, the employees, corporation and foundation have donated nearly $750,000 to the Red Cross Chesapeake Region.
U.S. Army Captain Sara Knutson Cullen was also honored. She became one of Maryland's Fallen Heroes while serving her country in Afghanistan. Captain Cullen was killed in a helicopter crash during a training mission on March 11, 2013.
The American Red Cross of the Chesapeake Region provides help to Maryland families after disasters including emergency shelter, food, clothing and counseling. The Red Cross also provides life- saving blood to area hospitals; teaches lifesaving skills; and supports military members and their families.