How BBQ brings South Africans together
Rebecca L. Weber | 4/17/2014, noon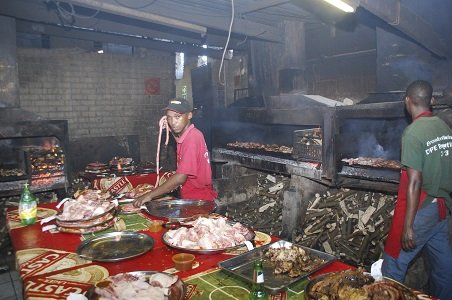 CNN — Barbecued zebra anyone?
How about warthog with peri-peri sauce?
Along with more traditional fare, these are the kinds of things you might find on a "braai," a specialized barbecue born of South Africa and over the last couple years seen around the world, thanks to a TV series.
South Africa's braai (barbecue) culture is one of the few things that truly cuts across racial and economic lines -- just about every circle of friends here has its own "braai master."
In much the way cupcakes went from being a humble, if beloved, food item to the focus of TV shows, blogs and books, so too the braai has escalated in prominence and caught the imagination of the country in a new way.
"The Ultimate Braai Master" -- a reality/game show that's an African mash-up of "MasterChef" and "The Amazing Race" -- is gearing up for its third season in September.
The Travel Channel broadcast the first season to more than 100 million people around the world, including in the UK, Australia, India and China.
It's slated to be part of Vibrant TV's lineup in the United States in 2014.
All you need to make your own braai is a 40-gallon steel oil drum cut in half lengthwise to hold firewood, with a piece of tight cross-mesh burglar bar to support your meat and veggies.
Commercial kettle grills, gas grills and instant charcoal are often used these days, as well.
Chill, braai
Like all good barbecues, a braai in South Africa is a leisurely affair.
Nobody braais on time; drinks and snacks are taken for a few hours while the fire is assembled.
Since 2005, Heritage Day, a national South African holiday, has been dubbed National Braai Day by Jan Scannell, aka "Jan Braai," whose braai cookbooks are domestic bestsellers.
Archbishop Doctor Desmond Tutu supports the initiative.
Elaine Ensor-Smith, a contestant on the first season of the TV show, says the show "heightened people's perceptions of what you can do" at a braai.
"Fire is a leveler," says the show's host, Justin Bonello. "It's not like you can turn it on to 180 [350 F] and walk away."
What can't you cook?
In one challenge featured on the program, teams had to use every part of a sheep to prepare a tasty dish, including brains, snout and offal.
"It was a really interesting challenge. I would probably do it again," says Ensor-Smith, adding that she "almost dry heaved when cracking the brains."
Traditionally, all parts of animals are eaten on a braai, but modern urban life has had its impact on the food chain here.
Chops, chicken and boerewors (literally "farmer's sausage," an incredibly long coiled sausage made of beef, lamb or pork mixed with herbs) are ubiquitous.
Different regions have their own spice mixes and specialties: peanut butter and apricot jam on chicken wings; peri-peri sauce on just about anything; springbok loin with anchovy butter; and "walkie talkies," or chicken feet.