NBA players protest racist talk attributed to L.A. Clippers owner Donald Sterling
Michael Jordan denounces "such sickening and offensive views"
Ralph Ellis and Steve Almasy | 4/28/2014, 6:49 a.m.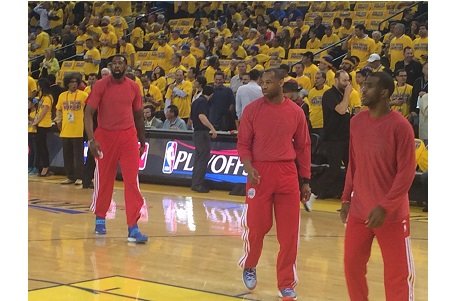 continued — Johnson, speaking on an ABC pregame show Sunday, said Sterling needs to go.
"He shouldn't own a team any more. And he should stand up and say, 'I don't want to own a team any more,' " Johnson said.
'Is that racism?'
In the latest recording, a man and woman talk about the photos, and he tells her he cannot change cultural beliefs, Deadspin reported.
The woman says she doesn't think the man is racist but the people around him have "poison minds."
"It's the world! You go to Israel, the blacks are just treated like dogs," the man says.
He says there are white Jews and black Jews, and they are treated 100% differently.
"And is that right?" the woman asks.
"It isn't a question -- we don't evaluate what's right and wrong, we live in a society. We live in a culture. We have to live within that culture," the man replies.
When the woman says she doesn't share the man's views about race, he tells her: "Well, then, if you don't feel -- don't come to my games. Don't bring black people, and don't come."
The woman, who says she is of mixed race, reminds him that most of his team's players are African-American.
"I support them and give them food, and clothes, and cars, and houses. Who gives it to them? Does someone else give it to them? Do I know that I have -- Who makes the game? Do I make the game, or do they make the game?"
The woman compares racial discrimination to the Holocaust.
"And you're Jewish. You understand discrimination," she says.
The man disagrees with the analogy and says that what he's talking about is not discrimination.
"There's no racism here. If you don't want to be walking into a basketball game with a certain person, is that racism?" the man says.
Investigation under way
NBA Commissioner Adam Silver said Saturday that Sterling, who has owned the basketball franchise for nearly three decades, is now under investigation over the comments attributed to him.
Silver said that the league's investigation will seek to determine whether the recording is authentic and to figure out the context in which these "offensive and disturbing" comments were made.
But he cautioned that Sterling must be afforded due process, so he would not speculate on any possible punishment, but said that the investigation will move "extraordinarily quickly."
Clippers President Andy Roeser on Saturday suggested a woman -- whom he doesn't mention by name -- was "getting even" with Sterling over a lawsuit.
Rochelle Sterling, the wife of Donald Sterling, filed a lawsuit last month against Stiviano, who she said was having an affair with her husband.
In the complaint, Rochelle Sterling accuses Stiviano of targeting extremely wealthy older men. The suit claims that Donald Sterling used the couple's money to buy Stiviano a Ferrari, two Bentleys, and a Range Rover and that Stiviano took possession of a $1.8 million duplex through fraud. Sterling also gave her nearly $250,000 in cash, the court document says.