Civic Works' Real Food Farm helping to "grow" Baltimore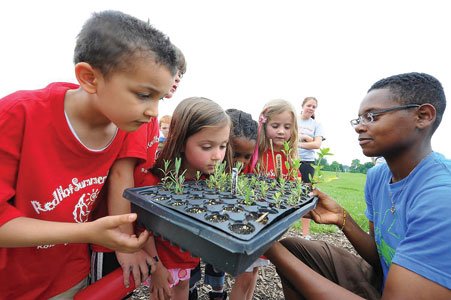 BALTIMORE — An innovative urban agricultural program is helping to "grow" Baltimore. Real Food Farm is improving neighborhood access to healthy food, developing Baltimore's agriculture sector, providing hands-on education to city students, and protecting the environment.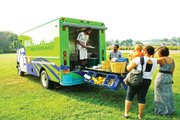 Real Food Farm's Clifton Park site and farm office is located on the Lake Clifton High School Campus at 2801 St. Lo Drive. The program enables fresh organic produce grown within Baltimore City to be delivered to various local restaurants.
"Urban farming to a degree in Baltimore City is becoming depopulated," said Tyler Brown, Farm Manager for Real Food Farms. "Therefore, we need to reclaim the space that has been vacated and give it back to citizens of Baltimore City. Real Food Farm also allows us to provide food to neighborhoods, and in general connects us to where our food comes from. This program provides a unique community hub and is an asset for our neighborhoods."
He added, "The bigger picture is to get people to think more about where food comes from and how it grows. We are losing a lot of farmland, so we need to maximize space for food production and ensure our neighborhoods have safe and secure food. This program is transforming under-utilized city land into productive green space."
Real Food Farm also seeks to provide a transparent and responsible soil management plan, to ensure high quality produce, safe working conditions and experiences for students and visitors, and a model for urban food production. In conjunction with their Nutrient Management and Food Safety Plan, the program carefully monitors lead and other contaminants in the soil and plant tissue.

Real Food Farm is offered through Civic Works, Baltimore's urban service corps and an AmeriCorps program. Civic Works seeks to strengthen Baltimore's communities through education, skills development, and community service.
Through the Real Food Farm program, residents can buy seasonal produce at multiple weekly neighborhood markets. The program also trains youth and adults in agricultural and horticultural jobs, and creates opportunities for city residents on the farm. According to Brown, the program demonstrates a replicable and sustainable model that shows the potential for urban agriculture to boost Baltimore's local economy.
"The program promotes urban farming in Baltimore City," said Brown. "It also provides demonstration space for hands-on education for agricultural and environment stewardship and to preserve our environment such as the Chesapeake Bay."
According to Brown, Real Food Farm has partnered with ten other urban farms.
"We grow and sell produce to a number of different places such as restaurants, and farmer's markets," said Brown. "Restaurants are one of the ways we distribute food locally. We also work with them to come up with our crop plan."
Brown noted that revenue is also generated through the program's Mobile Farmer's Market, and the acceptance of EBT (Electronic Benefits Transfer) and SNAP (Supplemental Nutrition Assistance Program) and WIC (Women Infants and Children).
"Reintroducing everyone to how food is grown is an important part of what we do," he said. "We broke ground in 2009, and this is our fifth growing season. People are excited about what we are doing. Many urban farms have happened since our inception, which makes us feel good. There is a lot more work to be done, but we feel good about what we have accomplished over the past few years."