National Science Foundation grant provides scholarships, tutoring, mentoring
8/11/2014, 5:58 a.m.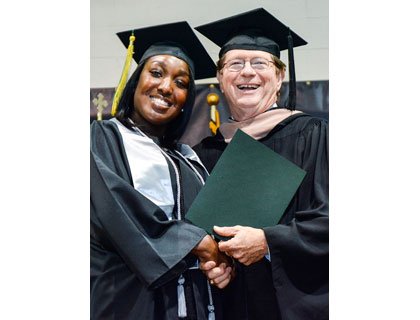 Syria Wesley, 31, of Waldorf was chugging along, taking college classes when she could while working full time at a grocery store pharmacy to support herself. For years she took classes at the College of Southern Maryland that she thought would help her at work, never dreaming that she could climb to the highest level in her field.
That was then. This fall, Wesley is part of the entering class of the Notre Dame of Maryland University School of Pharmacy.
"I thought becoming a pharmacist was out of reach for me until a co-worker—a pharmacist—asked me why I wasn't pursuing a degree. I hadn't seen in myself what others saw in me," said Wesley.
When Wesley spoke of her plans with her anatomy and physiology instructor, Professor Turner Coggins, she learned of a CSM program that could help her.
The STEM Scholars Program funded by a grant from the National Science Foundation (NSF) is available to students majoring in a STEM field at CSM. In addition to scholarships providing funding for up to $5,000 per year based on financial need, students are enrolled in the Scholars program which provides support services to increase retention and assistance to graduates in transitioning to further education or employment.
"The scholarship allowed me to go to school full time instead of a class here or there while working full time," said Wesley. "I used to have to prioritize between work and study—the scholarship allowed me to commit more time to study."
During the 2013-14 academic year 30 scholarships totaling $150,000 were awarded. Along with Wesley, Reema Domadia, 19, of Waldorf, was one of the scholarship recipients.
While at North Point High School, Domadia entered the dual enrollment program at CSM. Following graduation, she transitioned to CSM full time and will have more than 50 credits when she transfers to the University of Maryland A. James Clark School of Engineering this fall.
Although Domadia comes from a family of doctors, engineers and pharmacists, she is the first in her family to attend a U.S. college or university so the process of applying and funding school was new to her parents.
"I thought attending CSM would be a better transition into college since I am so used to the small class sizes and would leave me without student loan debt," she said. "I was taking math, physics and engineering classes with all the same students so we formed study groups and eventually became really good friends. The 'crew' helped guide and motivate me and are all transferring to UMD with me."
"The STEM Scholars program gave me ample opportunities to explore different science fields before settling on bio-engineering. It was while on a Scholars trip to [the National Institutes of Health] that I became interested in research. In addition to academics, the program developed me as a person—the professors not only motivated me but also informed me about the resources that are available to me. I learned how to conduct myself in an interview, proper etiquette and what to do in different situations. I had the opportunity to visit several colleges such as Rutgers, [University of Maryland Baltimore County] and Virginia Tech before deciding on UMD," said Domadia.