National Science Foundation grant provides scholarships, tutoring, mentoring
8/11/2014, 5:58 a.m.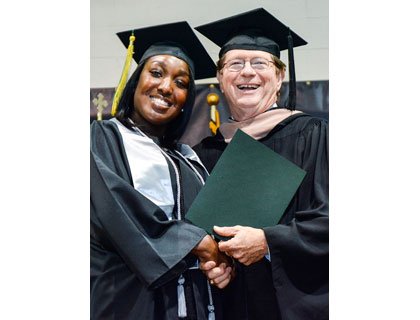 "The STEM Scholars program has many spots that have not been filled for the 2014-15 academic year and we are accepting applications until all are filled," said CSM Mathematics Professor and STEM Scholars Program Coordinator Sandra Poinsett.
Electronics technology, environmental technology, information services technology, biotechnology, mathematics/physical sciences, computer science and engineering are among the programs targeted by this grant.
"Built into the CSM STEM Scholars program are monthly activities where we bring in presenters from CSM and the professional community to speak on a variety of topics that will benefit students in their future academic and professional careers," said Poinsett.
The faculty advisers for this program are Biology Professor Dr. Melanie Osterhouse at the Prince Frederick Campus, Mathematics Professor Sue Strickland at the Leonardtown Campus, and Coggins and Poinsett at the La Plata Campus.
Looking back on her experience in the CSM STEM Scholars Program, Wesley acknowledges that there were many hands that guided her toward success—two of those were Biology Professor Margaret Bolton who wrote her a letter of recommendation and Career Services Director Lisa Warren who helped her prepare for the rigorous entrance interview for the pharmacy program.
"They showed me that many successful people are anxious to help others—that all I need to do is be willing to ask for help when I need it," Wesley said.
For information and to apply to the NSF STEM Scholars Program, visit http://www.csmd.edu/stem/scholarship_stem.html.
The program is funded through 2015 and applications will be accepted until all positions are filled.