Zane's Movie 'Addicted' to be released this fall
8/11/2014, 6 a.m.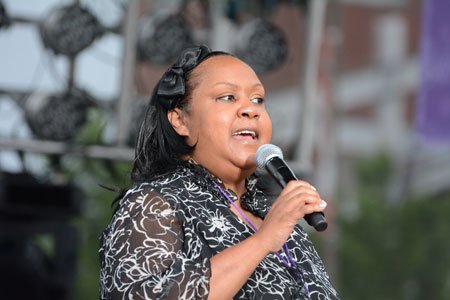 BALTIMORE — Author Kristina Laferne Roberts, better known as Zane who hails from the DC area and was a student at Howard University, was recently in Baltimore for the African American Festival and I had a chance to discuss her writing and her new movie "Addicted."
According to Zane, "Writing is a process. Everyone has a story to tell [and] it is up to them to find how to share that story with the world no matter if it is fiction or non-fiction. Writing is something you must constantly do. It really is a job and you have to have fun and love what you do."
She added, "People need to find their own voice and not try to imitate what I or any other author is doing— just be you. Whatever you write, it is your legacy. Take time with your book and promote yourself. No interview is too big or too small."
The movie "Addicted" is the about successful businesswoman Zoe Reynard, played by Sharon Leal ("Why Did I Get Married"), who appears to have attained it all— the dream husband she loves played by Boris Kodjoe, two wonderful children and a flourishing career. She is a woman who is led by desires that prove costly.
Words of advice from Zane, "Whatever in life you dream of doing or becoming, follow that dream and don't let anyone tell you, you can't achieve that dream."
For more information about Zane and the movie "Addicted," visit http://zanesaddicted.tumblr.com/. To see the trailer of the movie, which is scheduled to arrive in theaters in the fall, check The Baltimore Times Facebook Page: www.facebook.com/TheBaltimoreTimes