Robin Williams: Full of talent, full of demons, full of heart
Greg Botelho | 8/13/2014, 6:56 a.m.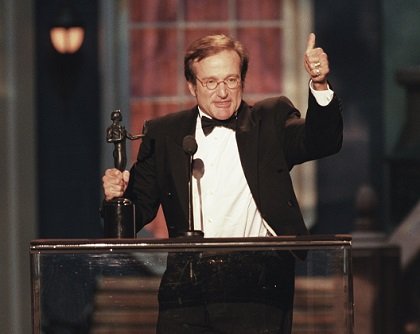 (CNN) — Of all the things to say about Robin Williams, the truest may be this: He made people smile.
They might be those who packed comedy cubs for his frenetic, improvisational, hilarious routines. Or those who fell in love with him as the lovable alien Mork and stayed in love through fun films such as "Aladdin" and serious ones such as "Good Will Hunting." Or those who had the pleasure of knowing him as a man -- a kind, decent, generous soul who made others' lives better.
Throughout his 63 years, Williams rarely failed to impress others with his charisma, his talent, his heart. All the while, he fought his personal demons -- including substance abuse that led to at least two rehab stints, the most recent coming last summer.
Ultimately, those struggles led to his end. According to police, Williams apparently hanged himself with a belt this week in a bedroom of his Marin County, California, home. Someone who'd given so much to so many over the years, in ways big and small, decided to take his own life after struggling with depression.
Still, while Williams never denied his struggles, he was never defined by them either. Just ask those who rubbed elbows with him, whether they were big-time comedians or fathers he could give joy to their ailing children.
Invariably, they had a story that involved him laughing, telling stories and making people feel good.
"His impact on the world was so positive," tweeted comedian and occasional co-star Ben Stiller. "He did so much good for people. He made and so many people laugh so hard for a very long time."
'A comedy force of nature'
The son of a model and an auto company executive, Robin Williams was born in Chicago on July 21, 1951, yet spent most of his childhood in and around Detroit.
Chubby and sometimes bullied, Williams laid low growing up -- the latter being expected in his family, Williams told People in a 2009 interview, even if it's opposite of the bigger-than-life persona he'd cultivate through his career.
"The ideal child was seen, not heard," he said then.
In an interview with the Detroit Free-Press, Williams characterized himself as "the opposite of a class clown" while at Detroit Country Day, a private boys school. He worked hard, played soccer and wrestled and "just went out of my way to fit in."
"I loved school, maybe too much really. I was summa cum laude in high school," he told the Free-Press. "I was driven that way."
As a teen, Williams moved to Northern California's Marin County -- attending high school and college there before enrolling at New York's prestigious Juilliard School for performing arts. He'd later return to the Bay Area, handing out Halloween candy and boosting local causes.
The once shy boy also found his place and his voice on stage at comedy clubs. Even after making a name for himself in Hollywood, he kept coming back to do stand-up at establishments such as Cobb's, Catch a Rising Star, the Improv and The Comedy Store because, as he told People: "It was my only release."