Robin Williams: Full of talent, full of demons, full of heart
Greg Botelho | 8/13/2014, 6:56 a.m.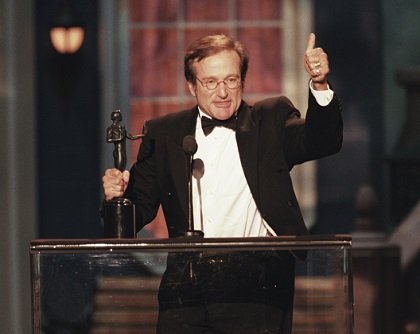 continued — "To see Robin perform was an experience," fellow comedian Gilbert Gottfried recalled in a piece on CNN.com. "He was more than a comedian. He was a comedy force of nature."
Mork from Ork
The comedy clubs may have been where Robin Williams felt at home. But he made it into millions of Americans' homes in his role as Mork from Ork.
Just as there's never been anyone else like Williams, there's been no other character like Mork -- an alien who took an egg-shaped spaceship to Earth and, thanks to Williams, ended up stealing many Earthlings' hearts.
The character debuted on the sit-com "Happy Days," whose star Henry Winkler "realized I was in the presence of greatness" during Williams' first rehearsal. From the start, his delivery, myriad faces and improvisational talents made him hard to resist.
"I just realized my only job is to keep a straight face," said Winkler, who played "The Fonz." "And it was impossible. Because no matter what you said to him, no matter what line you gave to him, he took it in, processed it, and then it flew out of his mouth, never the same way twice. And it was incredibly funny every time."
The "Happy Days" appearance was such a hit that CBS created "Mork and Mindy," pairing him with his human roommate played by Pam Dawber and fellow alien (and real-life idol) Jonathan Winters.
The show's run ended four years later in 1982, during which time Williams also starred as the titular character in the movie, "Popeye."
Williams didn't rest on his laurels. In fact, the beloved comedian turned his career on its heels by turning to dramas, starting with "The World According to Garp."
Instead of tickling people's funny bones, he tugged at their heartstrings. And as he had done at comedy clubs, Williams excelled in roles in films such as "Good Morning, Vietnam" and "Dead Poets Society."
Seesawing between comedy and drama
Williams went back and forth over the decades to come, from family-friendly fare such as "Mrs. Doubtfire" and as the voice of the genie in "Aladdin" to more adult-themed movies such as "The Birdcage" and "The Fisher King."
What turned out to be biggest role yet was actually a small film led by two then unknown actors, Matt Damon and Ben Affleck, in "Good Will Hunting." Playing sage psychologist and community college Professor Sean Maguire, Williams won the Oscar -- after losing out three other times-- for supporting actor.
As he stepped on stage to accept the award, he said, "This might be the one time I'm speechless" -- before launching an emotional, humble, joke-laden speech thanking all those involved in the film and his life.
"And most of all, I want to thank my father, up there. the man who, when I said I wanted to be an actor, he said, 'Wonderful, just have a back-up profession like welding.' "
As the years rolled by, Williams didn't slow down.
He seesawed in his roles -- from dark pieces such as "One Hour Photo" and "Death to Smoochy," to the lighter likes of "Happy Feet" and the "Night at the Museum" movies. He even went back to TV on the short-lived CBS comedy, "The Crazy Ones."