WHO panel says untested drugs are ethical as Ebola death toll tops 1,000
Stephanie Smith, Holly Yan and Jacque Wilson | 8/13/2014, 11 a.m.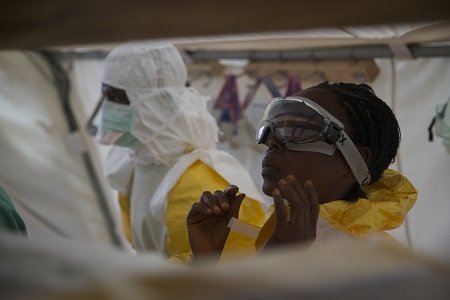 (CNN) — The first two doses of an experimental serum created to treat Ebola went to American missionaries.
Then the drug was sent to treat a Spanish priest.
The two Americans, Dr. Kent Brantly and Nancy Writebol, appear to be recovering. The priest, Miguel Pajares, died Tuesday morning.
That's the problem with experimental drugs that have never been tested in humans: No one knows if they'll work -- and if they do, in whom.
This week, the World Health Organization gathered a group of ethicists to decide whether untested medications and vaccines should be used in the current Ebola outbreak, and the complex question of who should receive the potentially life-saving medicine when there is such a limited supply.
As the death toll from the Ebola epidemic soars over 1,000, the WHO panel concluded it is ethical to offer medications to fight the Ebola virus, even if their effectiveness or adverse effects are unknown.
"The large number of people affected by the 2014 west Africa outbreak, and the high case-fatality rate, have prompted calls to use investigational medical interventions to try to save the lives of patients and to curb the epidemic," the World Health Organization said Tuesday.
WHO says it believes the virus has infected 1,848 people and killed 1,013, making this the deadliest Ebola outbreak in history.
The desperation has pushed Liberia's government to ask for the experimental serum used to treat the Americans and Spanish priest, in order to treat two local doctors.
The U.S. Food and Drug Administration approved Liberia's request for access to ZMapp, which was created by the San Diego-based biotech firm Mapp Biopharmaceutical Inc. Sample doses of the medicine will be sent to Liberia this week to treat doctors who have contracted the virus, the Liberian government said.
Mapp Biopharmaceutical said Monday its supply has been exhausted after fulfilling the request of a West African country. (It did not name the country). Kentucky BioProcessing, which manufacturers a version of the drug, is working to increase production of ZMapp, but the process will take several months, company spokesman David Howard told CNN last week.
"There are not adequate supplies of any of the investigational agents anywhere near ready for human use," said Dr. Jesse Goodman, director of the Center on Medical Product Access, Safety and Stewardship at Georgetown University Medical Center, referring to all drugs being developed to treat Ebola.
"Not (adequate) to treat all the patients in this outbreak, even if we knew they worked."
A vicious killer
Ebola can torment its victims with high fevers, internal and external bleeding, vomiting and diarrhea. It often afflicts multiple organ systems and can kill up to 90% of those infected.
The virus spreads through contact with organs and bodily fluids such as blood, saliva and urine.
Since the current Ebola epidemic was declared in Guinea in March, the disease has spread to Sierra Leone, Liberia and Nigeria.
And the impact has spread around the world.
Cynthia Sangbai-Kwennah, a native of Liberia living in Minnesota, has lost nine family members to Ebola in less than two months.