Witnesses to Michael Brown's shooting detail his last minutes
Ben Brumfield and Yon Pomrenze | 8/14/2014, 8:21 a.m.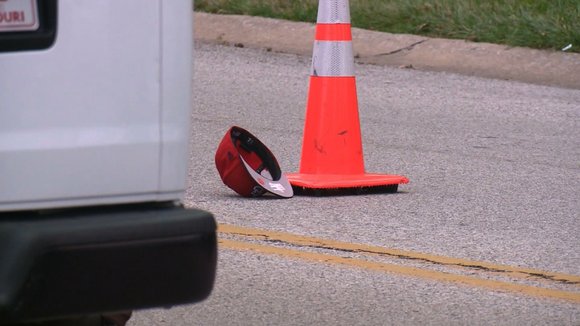 FERGUSON, Missouri (CNN) — While Michael Brown appeared to tussle with an officer before he was shot dead, he didn't enter the police cruiser as authorities claim he did, two witnesses told CNN.
The women's accounts corroborate that of a previous witness, all three of whom said the officer fatally shot the unarmed teen.
Police have said the black 18-year-old died in a dangerous struggle after trying to grab the officer's weapon. Not so, say the witnesses.
"It looked as if Michael was pushing off and the cop was trying to pull him in," Tiffany Mitchell told CNN on Wednesday night.
Mitchell said she drove to Ferguson on Saturday to pick up an employee for work just in time to see Brown tussling at the window of a police vehicle.
She and the employee, Piaget Crenshaw, told CNN's Don Lemon late Wednesday about Brown's last moments.
Crenshaw, still in her building, watched the same events from her window. She later shot cell phone video of the aftermath, which CNN obtained from affiliate KMOV.
It looked like the two of them were arm wrestling, she said.
Neither woman, who gave their statements to St. Louis County police, say they saw Brown enter the vehicle.
Instead, a shot went off, then the teen broke free, and the officer got out of the vehicle in pursuit, the women said.
"I saw the police chase him ... down the street and shoot him down," Crenshaw said. Brown ran about 20 feet.
"Michael jerks his body, as if he's been hit," Mitchell said.
Then he faced the officer and put his hands in the air, but the officer kept firing, both women said. He sank to the pavement.
After that, Crenshaw hit record on her cell phone. News of the killing spread fast through the neighborhood, and Brown's uncle walked up to the body to see if it was really his nephew, Crenshaw said.
The video shows police directing him back behind police tape.
State of unrest
Brown's shooting death, and police alleged stonewalling of details, have lit a fire in Ferguson. Residents say the officer's alleged actions were a brazen act of aggression, especially when Brown, who was about to start technical college, was unarmed and not threatening.
The city has seen protests every night since the Saturday shooting.
Wednesday was no different.
Police fired tear gas canisters at a crowd near a gas station that has turned into a gathering point for rowdy protests after dark.
News photographers took snaps of young men lighting Molotov cocktails. And a CNN crew found spent crowd-control stun grenades lying in the street.
A tear gas canister landed directly in front of the live television reporting position of Al Jazeera America; the crew ran, leaving its equipment behind. Then an officer later approached the camera and pointed it at the ground, CNN affiliate KSDK reported.
Police officers raised their guns at people heading for the protest, yelling for them to turn back.