Ravens wide receiver Kamar Aiken keeps on fighting
Turron Davenport | 8/29/2014, 6 a.m.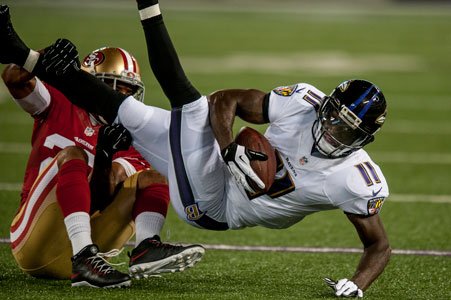 BALTIMORE — Many people don't know the trials and tribulations that a lot of players in the NFL go through. Usually we just see the end result and not the path they had to travel to become an NFL player. Certain stories teach a lesson; that lesson is to never stop trying. The way that Baltimore Ravens wide receiver Kamar Aiken keeps on fighting is a great example of persistence.
The Ravens recently released the list of players that will be cut in order to trim their roster down to the mandatory 75-player limit. Getting released was something Aiken has experienced in the past. This time, he was not among the players that were released and is very likely to survive the next roster cuts. This means he could land a spot on the Ravens active 53-man roster.
He had a productive college career at Central Florida where he racked up 121 receptions for 1,924 yards and 17 touchdowns. Jah Reed was one of his teammates at Central Florida and is once again a teammate, this time as a fellow Raven. His NFL career got off to a rocky start as he bounced around a few practice squads and only appeared in three games since 2011.
Aiken was originally signed by the Buffalo Bills as an undrafted free agent in 2011 but got caught up in a numbers game and didn't make the Bills roster. He then signed with the Chicago Bears as a member of their practice squad in October 2012. His time with the Bears was short lived. The Bears released Aiken a month later.
The next stop for Aiken was the New England Patriots in November of 2012 when he joined the practice squad and then was promoted to the active roster. The Patriots released him in August of 2013. Aiken then spent some time on the Ravens practice squad but is now poised to earn a roster spot.
This preseason is do or die and Aiken knows it. "To me, my back is against the wall," Aiken said. "There's no more practice squad eligibility. It's the 53 or that's it. I've never looked at myself as a practice squad guy or carried myself like that."
Knowing what was at stake, Aiken took a more aggressive approach to the off-season. He put in extra work, and according to his coaches, it is shows. At a recent press conference head coach John Harbaugh said Aiken's work has been paying off. "He's really shown a lot in the last few days, so we'll see if he can sustain it."
Offensive coordinator, Gary Kubiak raved about how big and explosive Aiken is. Aiken says he is reaping the rewards of doing Pilates, hot yoga, getting extra massages and eating right during the off season.
"This off season I attacked it way differently than I ever have since I've been in the league," Aiken said. "I spent a little extra money to make sure that I had everything in place. That's just growing up."