Governor-elect, Comptroller volunteer at Paul's Place in Baltimore
12/26/2014, 6 a.m.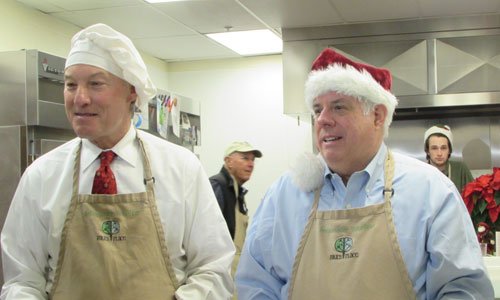 On Monday December 22, 2014, Governor-elect Larry Hogan and Comptroller Peter Franchot, joined by the Governor-elect's daughter Jaymi Sterling, the next First Lady Yumi Hogan, and Comptroller Franchot's wife Anne Maher, volunteered at Paul's Place in the Pigtown neighborhood of Baltimore City, where they donated clothing and helped serve lunch to local residents.
Founded in 1982, the organization is a unique non-profit offering basic needs services such as hot lunches, an emergency food pantry, housing assistance, a nurse's clinic, and more, as well as education and job-readiness services, health and wellness programs, and an after school program. "I first visited Paul's Place during the primary election, and was immediately impressed by the work this organization is doing in the Pigtown community," Governor-elect Hogan said. "I feel their model is something that could be implemented on a much larger scale throughout the state to foster 'hope, personal dignity, and growth,' part of the Paul's Place motto, to all of our communities in need. I'm very excited that the Comptroller and I are back again today."