Faces of Freedom: The Upper Chesapeake and Beyond
2/14/2014, 6 a.m.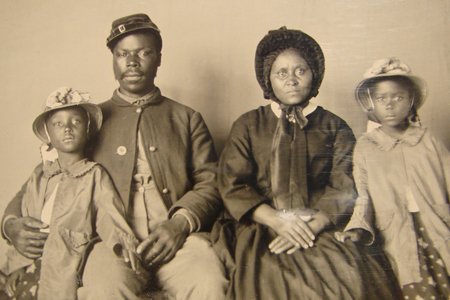 "Faces of Freedom: The Upper Chesapeake, Maryland, and Beyond," featuring a performance, interpretive exhibit, book and film discussions and lectures, opens Wednesday, February 19, 2014 and runs through Saturday, May 10, 2014 at the Hays-Heighe House at Harford Community College located at 401 Thomas Run Road in Bel Air, Maryland.
"Faces of Freedom" commemorates the 150th anniversary of the adoption of the Maryland Constitution of 1864, which ended slavery in the state. The project will focus on freedom, slavery and emancipation before, during and after the Civil War. It will feature individual stories of enslaved persons who freed themselves by running away, joining the Union Army and other methods, and of people who helped freedom seekers and those who worked to abolish slavery.
The centerpiece of "Faces of Freedom" is the play "Susquehanna to Freedom," performed Friday, April 4, 2014 at 1 p.m. and 7 p.m. in the Chesapeake Theater. The play was written by Dorothy E. King, Ed.D., and examines the role of the Susquehanna River in helping freedom seekers make their way north.
The play, a fictional account based on historic research, focuses on the Underground Railroad and imagines how three enslaved Harford County residents— Harriet Demby, Hull Rice and George Steward— might have followed the Susquehanna on their journey to freedom from Havre de Grace to Cooperstown, N.Y. The play premiered in 2013 at Penn State, Harrisburg, and its Maryland premiere will be at Harford Community College's Chesapeake Theater. Admission to the play is free, but tickets are required and may be obtained by visiting http://harford.universitytickets.com.
The interpretative exhibit features documented stories of those who sought or fought for freedom. The exhibit will feature panels, artifacts, photographs, manuscripts and original documents (or reproductions) from the Historical Society of Harford County and other institutions and private Collections.
Among those featured will be Ann and Joseph Hall, former slaves who gained their freedom with assistance from Junius Brutus Booth (John Wilkes Booth's father) and later lived with the Booth Family; Sam Archer, a freedom seeker enslaved by the Bel Air family of Thomas Hays; Harriet Cole Baker, a self-educated, pioneering evangelist; Margaret Morgan, whose heartbreaking story became a national tragedy with the Supreme Court's 1842 ruling in Prigg v. Pennsylvania; Elisha Tyson, a Maryland abolitionist; Freeborn Garrettson, a minister who freed his slaves and parceled his land to them; and William Still, whose 1872 book, "The Underground Railroad A Record of Facts, Authentic Narratives, Letters…" documents many freedom seekers from Harford County and the surrounding area.
Also part of the project is a lecture, book and film discussion series which will examine the issues of freedom and slavery, which figured in the lives of the individuals featured in the exhibit and will draw upon fictional and non-fictional accounts of freedom seekers, Underground Railroad workers and abolitionists.
The February 19 keynote lecture and luncheon features Thomas Norton DeWolf, a white man descended from the largest slave-trading dynasty in United States history, and Sharon Leslie Morgan, a black woman descended from slaves.