UMES, local businessman Kick-off Nation-wide Golf program at Forest Park Golf Club
Next Tiger Woods may come from Baltimore
Roderick C. Willis/NewsULM | 2/21/2014, 6 a.m.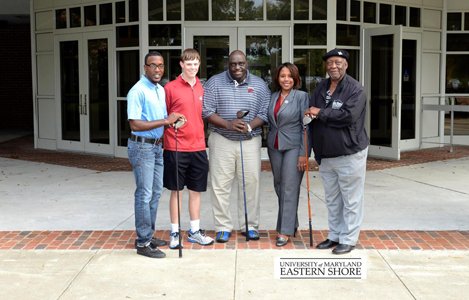 Golf is big business and an industry that generates billions of dollars for the American and international economy. While research data reveals that African Americans love to play the game and support the industry by paying billions of dollars in greens fees, purchasing golf clubs, golf balls and apparel, they are in principle not involved in the business or management of the sport.
An historic initiative to change that paradigm is being implemented in Baltimore City thanks to University of Maryland Eastern Shore (UMES) and local businessman Carnelious Jones. Jones, a wholesale distributor of petroleum products has become the nation's leading advocate for the diversification of golf.
Jones has developed a comprehensive strategy to diversify the game of golf and its associated industries. He has been appointed to become the first African American to serve as a national trustee of "First Tee," an international youth development organization introducing the game of golf and its inherent values to young people.
Jones has made a half-million dollar pledge to UMES to support four full scholarships in the college's Professional Golfers' Association (PGA) golf management. Currently, the University of Maryland Eastern Shore is the only Historically Black College or University (HBCU) in the United States to offer a bachelors' degree and curriculum in professional golf and backed by the PGA. At the recent UMES graduation ceremony, seven degrees were conferred on graduating students, none of which were African American. There are only 20 colleges and universities in the entire United States that have such a unique relationship with the PGA.
The initiative will create a pipeline of young golfers starting in elementary schools in Baltimore that will have a pathway to UMES that offers a degree on golf management and the business of golf. Not only will Baltimore city children starting in grade school learn to play the game of golf, they will be educated on hundreds careers available in the golfing industry including the merchandising of the sport and the management of tournaments.
According a non-profit research firm SRI International, approximately 26 million golfers are part of the engine that generated $69 billion in revenue in 2011. According to the US Census Bureau, the 2011 figure is down from approximately $76 billion golf generated in 2005, but was clearly the top spectator sport in revenue compared to football, baseball, basketball and hockey. When connected to other industries such as tourism, the total impact of the golf economy swells to a staggering $177 billion.
"Jones' gift is an extraordinary generous gift that we promise to use to achieve his goal and ours— and that is making educational opportunities available to those who deserve and will benefit by it," said UMES President Julliette B. Bell, Ph.D.
"Mr. Jones' transformational gift will provide UMES's PGA golf management program with much need resources to recruit motivated students to the program," said Kimberly Dumpson, UMES Executive Vice President who worked with Jones to establish the scholarship program.
Forest Park Golf Club will become the laboratory or guinea pig for the program that will be implemented in cities around the nation. The outreach initiative will include the adoption of 40 public schools, including those at the elementary level. At present, there is not one public high school in Baltimore City that fields a golf team for scholastic competition. Baltimore students who want to play competitive golf in high school must either attend private schools, or attend high schools in the county.