Baltimore educator is living history
Stacy M. Brown | 2/28/2014, 6 a.m.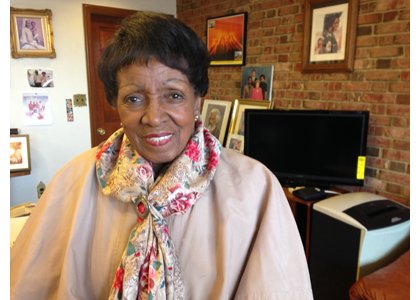 BALTIMORE — Ruth Pratt will often hop into her old Cadillac, take a drive around town and meditate on the many historic moments she has either taken part in or witnessed. Even at the tender age of 92, Pratt is still looking forward and figuring out ways she can as she says, "shake things up."
"My mother always said don't settle, go all the way to the top," said Pratt, who lives independently in spite of her advanced years.
Pratt only recently retired as principal of the Carter G. Woodson Elementary School after she turned 89.
"If you take care of yourself, truly take care of yourself, God will do the rest," said Pratt, a visionary and living African American icon, who started her career as an elementary school teacher and later became the first black principal at Dickey Hill Elementary School.
She says her parents proved to be great motivators. "When my mother and father were growing up in South Carolina, blacks weren't allowed to go to the eighth grade. And, in my father's case, he came from Virginia in the 1880s and he didn't even know how to write his own name," Pratt said.
However, despite their limitations, Pratt's parents knew the value of education and she had no choice except to earn good grades. Pratt recalled when schools were first integrated in the 1950s. She taught at Thomas G. Hayes Elementary School, known then as School #119.

"Schools that were numbered 100 to 199, you knew were black and those less than 100 or more than 200, were white," she said. "After integration, they began to recruit black teachers to go over to white schools just to test the waters. Black teachers were offered $500 to move but some of us didn't want to do that."
The reluctance came because black students would suffer, she said.
"Vacancies left by black teachers were filled with white people, not white teachers," Pratt said. "I remember one white lady said she took the job only because she had an empty nest. In my opinion, that was the beginning of the downfall of education for blacks."
Pratt often encouraged students to strive for greatness and to never rest upon their laurels or let rejection stop the pursuit of goals. "I remember when blacks couldn't go to Johns Hopkins University, the University of Maryland, or Towson," Pratt said. "Well, I decided to test the waters and I applied to the University of Maryland, of course long after integration. Now, I knew that they couldn't say no because of my skin color, so they'd have to find another reason," she said.
"I got a letter of rejection and then I wrote back to them to ask where I could improve in order to have a chance at being accepted and they wrote back accepting me, saying that I'd be on probation and had to maintain a 3.3 grade point average. Well, in 1985, I graduated with a 3.678 grade point average."
Pratt had already achieved a Bachelor of Science degree from Coppin State Teachers College in Baltimore four years after she graduated from Frederick Douglass High School in 1939. She later earned a Master of Arts degree from Howard University in 1948 and her career spanned seven decades.