Secrets of the world's most fashionable women
Women in the world's biggest fashion cities swear by dark, neutral colors
Ann Hoevel | 1/2/2014, noon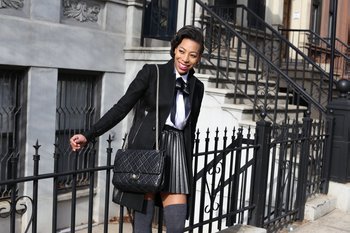 CNN — Walking the streets of the world's leading fashion capitals -- New York, Paris, Milan, Tokyo -- one might expect to see women strutting sidewalks in the most avant-garde of outfits.
After all, these women have access to the most creative fashion minds on the planet, said Eva Chen, editor of Lucky magazine. But what you actually see, she said, is a flood of impeccably dressed women wearing black.
"It's an urban uniform to wear black and dark colors," Chen said. "I look at the way I dress and how my editors dress, and there are days when people look super New Yorky."
But why? Here are the secrets.
Secret No. 1: Build on black
Black, navy, brown and dark greens and purples are practical and typical winter wear colors. On a blustery winter day, these dark hues are thermodynamic armor. But it's the artful eye of an urban fashionista that turns them from drab to fab.
Women in New York, for example, effectively color-code their closets, Chen said. The black skirt they just bought will pair easily with the black blazer they already own, the black boots, the black sweater, the black shirt that are already in their closet. "Black is always chic," she said, so there's an added aspect of wardrobe longevity.
"It's easy for me, when I'm shopping, to rationalize a little black dress, a blazer or a motorcycle jacket," said Janelle Lloyd of the street fashion and decor blog Girls Off Fifth.
"I have three of each of those things in my closet. Those are things you're going to throw on every day and look chic and look classic and wear for a lot of different occasions."
Twenty-four hour transitions are the key to Lloyd's wardrobe. It's not uncommon for one day's outfit to need to function as casual, business, cocktail and gala wear. The safe bet, Lloyd said, is on black.
"We don't go home after work and change," she said of her fellow city-dwellers, who often follow a full day's work with drinks, dinner and the periodic gala event.
"Instead, you're switching from a flat to a heel or you're throwing on a different jacket instead of your blazer from work," she said. They just cart the makeup, shoes and extra jacket needed to go from day look to evening look inside a roomy bag.
Secret No. 2: Treat neutrals like dark colors
In the fashion world, black is the universal color of style, Chen said. The day-to-day wardrobes of busy urban women are built on black and other dark colors like navy. (A current trend is mixing black and navy in the same outfit, Chen noted.) From there, they add color.
"As an editor, two years ago -- which kind of gives an insight into my fashion mind -- my New Year's resolution was to start wearing more color. And by color, I meant gray," she said.
That's part of the secret to big city style, she said. Fashionable urbanites think differently about color.