Polar blast barrels across the United States
By Holly Yan and Steve Almasy | 1/6/2014, 6:44 a.m.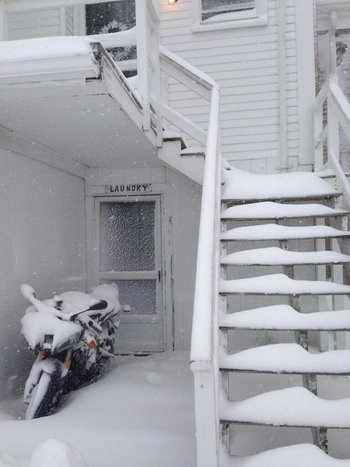 Yes, it's winter. And yes, it's cold. But this is different.
Just ask Richard Thomas, owner of R. Thomas Deluxe Grill in Atlanta.
He keeps a dozen birds outside the restaurant and never, in his 30 years, has he had to move them inside.
But that's exactly what he scrambled to do Sunday.
"The weather prediction made me nervous," said Thomas, 80. "Rather than risk danger to any of my buddies, so to speak, I just decided to make that decision."
As many as 140 million Americans are bracing this week for a polar blast that's barreling across the country, dumping snow in some places and shattering records.
Much of the United States will see the coldest temperatures in almost 20 years, according to the National Weather Service. They are expected to be 30 to 50 degrees below average in some cities.
To put things in perspective, the weather in Atlanta and Nashville, Tennessee, on Monday will be colder than in Anchorage, Alaska. By Wednesday, nearly half the nation will shudder in temperatures of zero or lower, forecasters said.
The unusual weather is already causing headaches, especially for travelers.
Close to 3,000 flights were canceled Sunday, said the flight-tracking website flightaware.com, which tracks cancellations due to weather, mechanical and other problems.
A man at Logan International Airport in Boston told CNN affiliate WCVB that he will miss two days of a cruise because he can't get to Florida as planned to meet the boat.
Another passenger at Logan was overcome with emotion as she spoke, her voice cracking under the stress.
"I just want to go home. I just want to get back, settled in. We've been cooped up for two days," WCVB reported Amy Roy said.
Here's a look at what's happening around the country:
Midwestern snow and one freakishly cold game
Snow was falling across the Midwest. In Brownsburg, Indiana, more than 4 inches had fallen during the morning, said iReporter Bill Byrd.
"Most people are staying in their homes, and church services are canceled," he told CNN.
Indianapolis Mayor Greg Ballard told residents to stay off the streets, especially after nightfall.
"It's not just a snow event, it's a cold event, and that's what scares us," he said.
Parents should keep an eye on their kids who might be out sledding into the evening hours -- there is no school Monday -- and check to make sure they don't get frostbite.
In Wisconsin, a sold-out crowd more than 70,000 hardcore Green Bay Packers endured temperatures between 4 and 8 degrees. With the wind, the air could have felt as cold as minus 15 degrees.
"You can prepare for it, but you can't really prepare for it. We've been doing this our whole life up here. It's what Green Bay is all about -- it's cold weather and hard-hitting football," said Jason Gibbs.
The Packers offered free hand warmers, hot chocolate and coffee at the afternoon game, spokesman Aaron Popkey said.