Family of American held in North Korea 'appalled' by Dennis Rodman's outburst
Bill Richardson says Rodman "crossed a line" in his comments from North Korea
Jethro Mullen. Laura Smith-Spark and Tom Watkins | 1/8/2014, 9:24 a.m.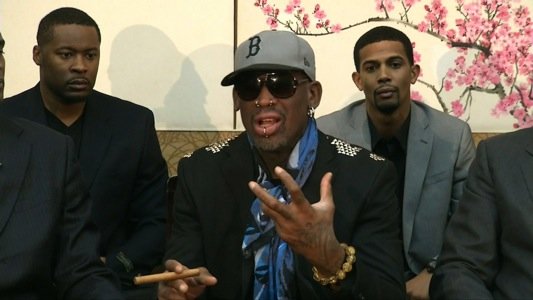 continued — Rodman 'crossed a line'
Bill Richardson, a former U.S. ambassador to the United Nations, also criticized Rodman's comments, telling CNN he was "disappointed" by the former NBA star's performance.
"I think Dennis Rodman crossed a line this morning by implying that Kenneth Bae might be guilty, by suggesting that there was a crime," said Richardson, who worked to secure the release of an American held in North Korea in 1996. "There is no crime. Kenneth Bae is an American detainee that's been there a year in bad health, who deserves to come home."
Richardson, a former New Mexico governor who has visited North Korea multiple times, said Rodman "drank a little bit too much of the Kool-Aid from the North Koreans."
Rodman's comments Tuesday contrast with a request he made on Twitter in May for Kim to "do me a solid and cut Kenneth Bae loose."
Rodman struck up a friendship with Kim last February, when he first traveled to North Korea with a team of Harlem Globetrotters for an exhibition game that was watched by Kim, who is a basketball fan.
He has described his series of trips to North Korea as a "basketball diplomacy" project.
But U.S. government officials have said that they have nothing to do with the visits and that attention should be focused on the brutality of Kim's regime.
White House spokesman Jay Carney noted that Rodman is on a private trip and that the United States has called for North Korea to release Bae. "Our views about Kenneth Bae have not changed," he said.
"I did not see some of the comments that Mr. Rodman made, but I am not going to dignify that outburst with a response," Carney added. "I am simply going to say that we remain gravely concerned about Kenneth Bae's health and continue to urge the DPRK authorities to grant his amnesty and immediate release on humanitarian grounds."
'He's a wacko'
Laura Ling, an American journalist who along with a colleague was held prisoner by North Korea in 2009, said Rodman's comments about Bae were "incomprehensible."
"He's a wacko, he's a nut," she said on "Anderson Cooper 360." "But I don't think that anyone expects him to be this ambassador or to produce this diplomatic breakthrough. At least we shouldn't -- that would be pretty scary if Dennis Rodman was our envoy."
But she said hoped the basketball players' visit could result in North Korea releasing Bae "as a compassionate, humanitarian gesture in turn."
Ling said her North Korean detention, which ended when former President Bill Clinton helped secure her release, was "the most terrifying time of my life."
But she added that she also saw "glimmers of compassion and humanity exhibited toward me by some of my captors."
Ling said she hoped the interaction through basketball could introduce the North Korean people to a "a more positive side" of the West, offering a counterpoint to the state-run media's intense vilification of the United States and its allies.
'I love my friend'