Family of American held in North Korea 'appalled' by Dennis Rodman's outburst
Bill Richardson says Rodman "crossed a line" in his comments from North Korea
Jethro Mullen. Laura Smith-Spark and Tom Watkins | 1/8/2014, 9:24 a.m.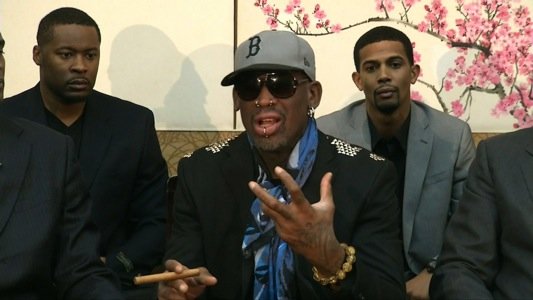 continued — Rodman, whose nickname is "The Worm," defended the visit to North Korea in his interview with Cuomo, saying it was a "great idea for the world."
He became upset when pressed on whether he and the other players should have traveled there, given recent events in the secretive country.
The trip takes place weeks after North Korea announced the purge and execution of leader Kim's once powerful uncle, Jang Song Thaek.
"I love my friend," Rodman said in a reference to Kim. "This is my friend."
He praised his companions' willingness to visit North Korea.
"You know, you've got 10 guys here, 10 guys here, that have left their families, they've left their damn families, to help this country in a sports venture. That's 10 guys, all these guys here, do anyone understand that?"
"We do," responded Cuomo. "And we appreciate that and we wish them well with cultural exchange."
"No, no, no, no," Rodman continued. "I don't give a rat's ass what the hell you think. I'm saying to you, look at these guys here, look at them ... they dared to do one thing, they came here."
Ready for 'the abuse'
After Rodman's outburst, fellow player Charles D. Smith tried to calm the discussion, but Rodman carried on.
"You're the guy behind the mic right now," he told Cuomo. "We're the guys here doing one thing. We have to go back to America and take the abuse. Do you have to take the abuse? Well, we're going to take it."
Rodman predicted his efforts and those of his fellow athletes would eventually "open the door" to North Korea for other people.
Smith pointed out that the group comprised not only ex-players, but some 40 other people, including a number of other Americans.
Smith defended Rodman, saying the players' visit was about basketball, not politics. "We just hope the results are positive, and we think that they'll be positive," he said, noting that the Americans had interacted earlier in the day with their North Korean counterparts, talking through an interpreter.
North Korea had invited the American players as a kind of "cultural exchange" and to "put smiles on people's faces," not to influence the country's leaders, Smith said.
"We are here because it's about doing great will around the world," he said.
The planned game between the former NBA players and a North Korean team hasn't so far received any coverage in North Korea's tightly controlled state media.
'We're not ambassadors'
Smith outlined the charity projects he has been involved in worldwide through his sport, including visiting typhoon victims in Asia.
"We're doing what we do; we play basketball, and that's what we love to do," he said.
"We did not know that it was going to take this type of a negative spin on what we were doing because we're not politicians, we're not ambassadors. We're here to do what we've been doing most of our lives."
Smith apologized for "the storm that has been created by our presence." But, he added, "We're not apologizing for doing what we do ... we're connecting people to basketball and people to people."