Family of American held in North Korea 'appalled' by Dennis Rodman's outburst
Bill Richardson says Rodman "crossed a line" in his comments from North Korea
Jethro Mullen. Laura Smith-Spark and Tom Watkins | 1/8/2014, 9:24 a.m.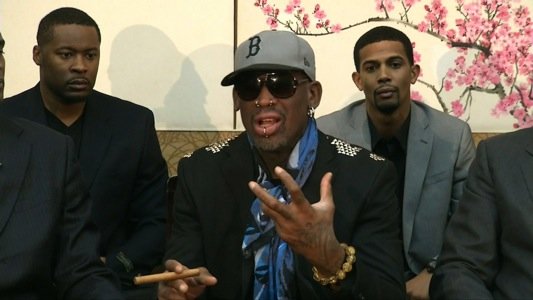 continued — Darren Prince, Rodman's agent for 16 years, told CNN on Sunday that Kenny Anderson, Cliff Robinson, Vin Baker, Craig Hodges, Doug Christie and Smith would play against the North Korean senior national team.
NBA unimpressed
The NBA distanced itself from Rodman on Tuesday.
"Dennis will be Dennis, but I think there is a lot at stake here in terms of a ... a very dangerous country," outgoing NBA Commissioner David Stern said on "The Situation Room with Wolf Blitzer."
Stern, commissioner for nearly 30 years, said the league has had preliminary discussions in the past with Pyongyang about a cultural exchange, but he wouldn't send any players to North Korea without the OK of the White House.
Stern said he believed that these former players agreed to the game for a big payday and didn't think about the political ramifications.
He said that the league didn't sanction the trip or collaborate with Rodman's group.
"Sports diplomacy is a wonderful thing," he said, mentioning that the NBA has hosted teams from China and Iran. "But they should be done in a far more dignified fashion than this particular trip is being carried out."
CNN's Steve Almasy contributed to this report.
The-CNN-Wire
™ & © 2014 Cable News Network, Inc., a Time Warner Company. All rights reserved.