It's not too late to get a flu shot
Stacy M. Brown | 1/10/2014, 6 a.m.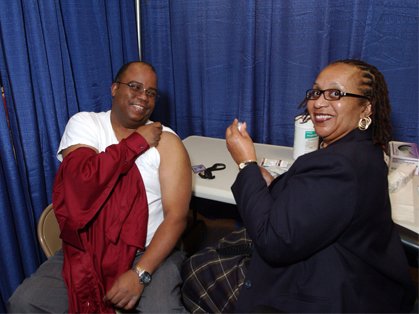 CDC officials recommend an annual flu vaccine for everyone six months and older. The vaccines are available to infants as a nasal spray, officials said.
The shots available this year include one that protects against three flu viruses, another shot that protects against four viruses, an intradermal flu shot for those 18 to 64 years of age, and a high-dosage flu shot for individuals 65 and older.
"The most important thing is that you get vaccinated, not necessarily which vaccine you get," Schuchat said.
For minorities, Bridgewater said socio-economic indicators show African Americans, particularly in Ward 8, as having major health challenges and high death rates.
While progress has been made, Bridgewater said he and others will continue to press for everyone to be conscious of their health needs and to get the flu shot.
"Influenza is among the top 10 causes of death in a population where certain long-term medical conditions, including asthma, diabetes, heart disease, neurological conditions, obesity, HIV or AIDS, and cancer, just to name a few, have become the norm," Bridgewater said.
"We will continue to work collaboratively to change current health conditions that plague our community. This campaign is the first of its kind, and the time is now for such a bold initiative."