Baltimore woman beats leukemia
Nikita Moore describes battle at survivor forum
Ursula V. Battle | 1/17/2014, 6 a.m.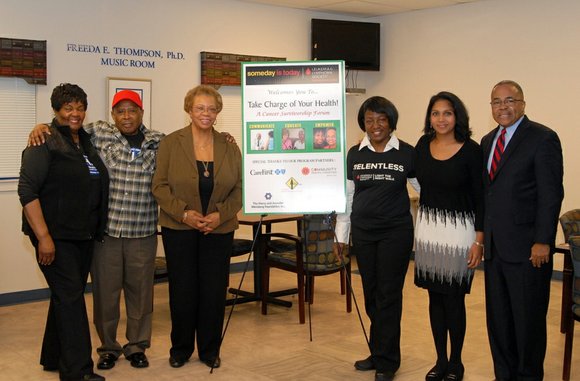 continued — Moore, who is married and has one son, works as a housekeeping assistant at a Baltimore retirement community.
"I chose to participate in this event because The Leukemia & Lymphoma Society has been such a blessing to me. Ever since I was diagnosed, they have been such an inspiring group of people. They are always there and have numerous resources."
The mission of LLS is to cure leukemia, lymphoma, Hodgkin's disease and myeloma, and improve the quality of life of patients and their families. The organization funds lifesaving blood cancer research around the world and provides free information and support services.
"We wanted to reach the underserved population in Baltimore," said LaVerne Perry Patient Navigator with the Maryland Chapter of The Leukemia & Lymphoma Society and coordinator of the event. "We also wanted to increase our numbers and let patients know about the services we offer. We have been able to reach people through this event, which is in its third year."
Perry added, "This event gives them hope that it's not the end of the road. One man who is involved in our organization is a 30-year-survivor. The advancements that we have available to us today are working. Cures are happening now. Not someday, but now."
For more information about the Maryland Chapter of The Leukemia & Lymphoma Society, call 1-800-242-4572 or visit www.LLS.org/md.