Richard Sherman: Rant was 'immature,' reaction 'mind-boggling'
Lateef Mungin and Steve Almasy | 1/22/2014, 9:46 a.m.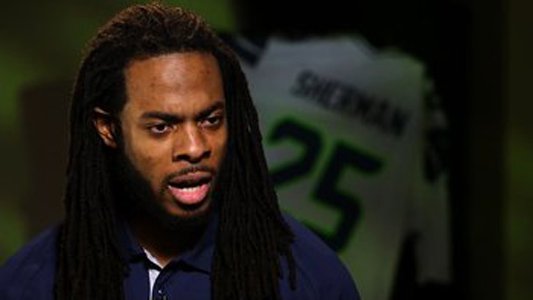 CNN — There are two Richard Shermans.
There's the smart Stanford graduate who loves to read. And there's the brash, trash-talker who considers himself the best NFL player.
One is quiet, reflective. The other can be loud -- very loud.
Much of America met the second Richard Sherman on Sunday night when, after making an amazing defensive play to seal the Seattle Seahawks' trip to the Super Bowl, he ranted in a postgame interview about his opponent.
On Tuesday, we caught a glimpse of the first when Sherman showed up for a sit-down with CNN's Rachel Nichols for a mea culpa -- but not for long.
"I probably shouldn't have attacked another person," he told Nichols in an exclusive interview that will air in its entirety Friday night on CNN's "Unguarded."
"You know, I don't mean to attack him. And that was immature and I probably shouldn't have done that. I regret doing that."
But then, Sherman turned the spotlight on to him, making himself the victim, defending his actions and saying that what he regretted most was the way the media covered his rant.
He also said he was shocked by some of the racists responses he received.
"It was really mind-boggling the way the world reacted," Sherman said. "I can't say the world, I don't want to generalize people like that because there are a lot of great people who didn't react that way. But for the people who did react that way and throw the racial slurs and things like that out there, it was really sad. Especially that close to Martin Luther King Day."
"I learned we haven't come as far as I thought we had," Sherman added. "I thought society had moved past that."
The best in the game?
Sherman, 25, has played in the NFL for three years after a standout career at Stanford. He was named an All-Pro the past two seasons at cornerback, a position where you often find yourself standing alone and defending against the fastest offensive players on the field.
It takes a certain mix of bravado and confidence to excel at cornerback. And in Sunday's game, Sherman brought both.
Sherman, who was defending 49ers receiver Michael Crabtree near the end of the tight contest, batted a ball to a teammate. That move ensured the Seahawks a trip to the Super Bowl.
The crowd was beside itself. And so, it seemed, was Sherman.
"I'm the best cornerback in the game," he screamed during the post-game sideline interview. "When you try me with a sorry receiver like (the 49ers Michael) Crabtree, that's the result you are going to get. Don't you ever talk about me."
Fox sideline reporter Erin Andrews asked, "Who was talking about you?"
"Crabtree," Sherman angrily responded. "Don't you open your mouth about the best, or I'm going to shut it for you real quick."
Viewers were shocked. They're more used to hearing players offer up cliches about what it takes to win, and hand down half-hearted congratulations to their opponents for being worthy adversaries.