Award-winning substance abuse prevention poster presented
1/24/2014, 6 a.m.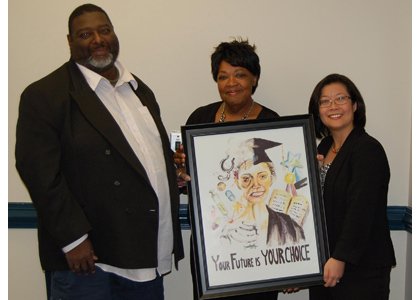 ANNAPOLIS — The Western Anne Arundel Substance Abuse Prevention Coalition (WASP) recently presented a copy of the winning poster of the coalition's first media contest to Anne Arundel County Acting Health Officer Dr. Jinlene Chan. The presentation took place at the Health Services Building in Annapolis.
The artwork "Your Future Is Your Choice," was created by Yiqi Yu, a 2013 Meade High School graduate. This spring, WASP will hold its second annual substance abuse prevention media contest for Meade High School students. The contest will be co-sponsored by the Anne Arundel County Licensed Beverage Association.
For more information about the contest and the coalition, contact WASP Chairman Derrick Farmer at waspcoalition@gmail.com. For more information about Anne Arundel County substance abuse prevention and education services, call 410-222-6724