Not your mama's gym class
Physical education teachers are using innovative ways to battle the obesity crisis
Jacque Wilson | 1/30/2014, 10:40 a.m.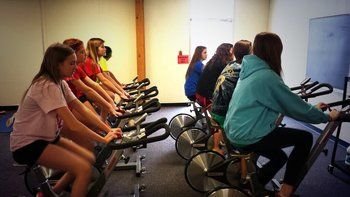 CNN — It's been called the fourth "R" of education: reading, writing, arithmetic and now, aerobics. But the gym class of generation Wii isn't the same one you probably remember from school.
"You hear sometimes the old stories ... where you roll the ball out and students just played the game," says Hanna Vaandering, president of the Oregon Education Association. "That's not what physical education is about today."
As they struggle to keep kids active in the midst of an obesity epidemic, PE teachers are using technology and the latest fitness trends to inspire even the most nonathletic children to develop a lifelong love for exercise.
"If you don't have health, what do you have?" Vaandering asks. "You've got to make sure (students) understand how to take care of their body."
Fighting an epidemic
Stop me if you've heard these statistics before: Approximately 17% of Americans age 2 to 19 years old are obese. Though recent studies have shown signs of progress, an estimated one out of every eight preschoolers in the United States is still obese, according to the CDC. And only 25% of adolescents between the ages of 12 and 15 met the national fitness recommendation of 60 minutes of moderate-to-vigorous physical activity daily in 2012.
PE teachers have struggled to fight the effects of childhood obesity in class, says Vaandering; many children's motor skills are not where they should be and cardiovascular endurance is a big problem.
And frankly, "the kids are lazier," says Rich Muller, a PE teacher at Dwight-Englewood School in Englewood, New Jersey. "They don't want to work. They don't want to do anything."
Not just flag football anymore
In his 28 years as an educator, Muller has seen a significant shift in the kinds of activities taught in gym classes. Just a decade ago, he says, the focus was 95% on team sports. Now teachers are incorporating golf, rock climbing, bowling and even ping-pong into their curriculum.
"I'm trying to find that environment where they can find that one lifelong activity," says Matthew Pomeroy, a PE teacher at Merton Intermediate School in Merton, Wisconsin. "All those different things that kids can kind of be engaged in and enjoy."
While kids in Pomeroy's district tend to be more active than the average American middle schooler, he sees another troubling trend: students who are spending 10 to 12 months of the year playing only one sport. While that's great for physical fitness, he says, orthopedic surgeons are seeing an increase in children's sports injuries related to such repetitive motions.
Both Muller and Pomeroy offer students at their respective schools a choice every day: They can play volleyball or do yoga; they can practice archery or work out in the weight room. Zumba. CrossFit. Geocaching. Tabata. Spinning. All these and more are offered to encourage students to move.
"The participation level has skyrocketed because they have more options," Muller says. "It's fun. We have hardly any complaints like we used to."