Climate change can change one's well-being
Jazelle Hunt | 7/1/2014, 7:07 a.m.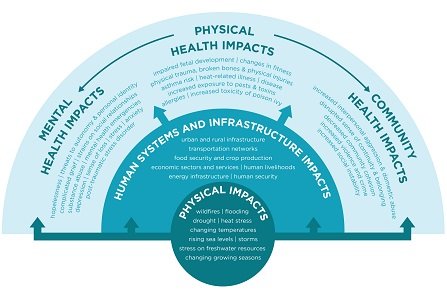 WASHINGTON (NNPA) — For most of the nearly 30 years since Dr. Nicole Brodie's asthma diagnosis, the athlete and Army veteran has been able to maintain an uninterrupted life, continuing to teach elementary school, coach a children's team, and remain active. She was partly able to do this by moving her family from New York State to Atlanta for the warmer climate.
"When I arrived in Atlanta, my asthma was controlled with just [an] albuterol [inhaler] as needed," she said at a panel event last week. "But in the last 10 to 15 years, I have had to be on oral steroids…I've increased to daily Allegra [allergy pill] and nasal sprays. And I keep a Benadryl on me at all times. I have to take four-to-five pills a day to manage my symptoms."
And three weeks ago, she found herself in the hospital for an emergency intervention. The heat index had risen too quickly, causing her lungs to fall to 75 percent capacity.
The issue of climate change is often discussed in terms of failing infrastructure, energy squabbles, weather disasters, and ecological concerns. But a mounting body of research is showing that individual and communal wellness is also at stake; and communities of color tend to be some of the hardest hit.
"The theories are over. We needed an insurance policy, and now it's time to cash in," Dr. Georges Benjamin, executive director of the American Public Health Association said at a press conference to release the report. "For years we've debated if [climate change] is happening, but we are now seeing it in patients."
Two reports released last week examined how the effects of climate change can deeply affect physical and psychological health, on both individual and communal levels. (The studies' "effects of climate change" referred to trends in extreme weather events, food and water shortages, poor air quality, etc.).
The first report is a survey of 284 physicians of color across 33 states on their experience treating people suffering as a direct or indirect result of climate change. The survey was sponsored by the George Mason University Center for Climate Change Communications (4C Program), and the National Medical Association (the largest and oldest professional organization of African American physicians).
In the survey, 61 percent of physicians reported that climate change is affecting the health of their patients a great deal or a moderate amount, and 88 percent have experienced climate change effects outside of their role as physicians.
The most common climate-change related illnesses doctors were seeing in their patients, with 88 respondents seeing each of these trends, were injuries because of severe weather (such as back damage from shoveling after major snowfall), and illness aggravated by air pollution (such as COPD, asthma, and pneumonia). More than half the doctors also reported increases in treating waterborne and vector-borne illnesses (transmitted by insects or microorganisms, often stirred up by heavy rains and flooding).
In the case of asthma, African Americans already disproportionately suffer from this condition. According to the Office of Minority Health, In 2011 African Americans were 20 percent more likely than Whites to have asthma and three times as likely to die from it. Add the fact that communities of color and low-income communities tend to be situated in polluted areas, and the stage is set for disaster.