US vs. Belgium preview: There's no room for error now
Saeed Ahmed | 7/1/2014, 6:55 a.m.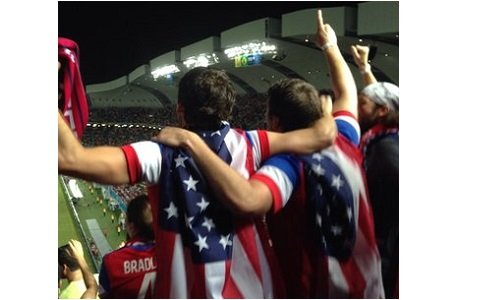 (CNN) — OK, so the U.S. lost to Germany, but still squeezed through to the next round. No shame in that. But nothing to be too proud of either.
But the game today? This is do or die. This is one and done. This is all or nothing.
This is whatever cliche you can think of to rabble rouse your team spirit.
If the U.S.-Germany match was a battle of David and Goliath, this afternoon's encounter is David and the Dark Horse.
And Belgium ain't no one trick pony.
The game's at 4 p.m. ET -- enough time for you to skim through this cheat sheet and become an insta-pundit.
Why you should care
It's about time soccer caught on in the U.S.
And in order for that to happen, Americans need a team they can really rally behind.
If the boys can beat Belgium, it's off to the quarter finals of the World Cup. The last time the men's team did that was in 2002. (They lost to Germany.)
The expectations are enormous. When was the last time you saw the country unite behind one cause, gather in front of massive TV screens, and collectively bellow, "I believe that we will win"?
At home, 25 million people watched the USA nearly slay Portugal last week. Twenty five million! That's more than what the NBA finals or the baseball World Series averaged.
In Brazil, Americans are second only to the host nation in the number of tickets bought.
Online, Twitter and Facebook are blowing up.
Soccer, you see, is starting to stir the soul of America.
"The country is paying attention in a way that it's never done before, and we have a chance to make some history," said Sunil Gulati, the U.S. Soccer Federation president.
It'd be a shame if the plucky Yanks lost to Belgium, killing the momentum.
How it has played out before
When the U.S. last played Belgium at the World Cup, it beat them 3-0. But that was 84 years ago -- in 1930! More recently, the teams played two "friendlies" (matches that aren't part of a tournament). The U.S. lost both.
Why you should worry
You don't hear Belgium mentioned in the same breath as soccer powerhouses like Brazil, Argentina or Germany.
That's because it isn't.
It plays a boring brand of soccer. Cautious. Tentative. Patient.
''I am here to be a realist," their coach, Marc Wilmots, says. "I am not here to please the fans in the stands."
But Belgium wins games.
It qualified for the World Cup, winning eight out of 10 games. (It drew the other two.) At the tournament, it's won all three of its games, conceding only one goal.
Another reason: The Red Devils are young and hungry. Eleven of their players are in the prestigious English Premier League. Four of the Americans play there. Also, Belgium has way too many strong goal-scorers.
Why you shouldn't worry