Childhood vaccines are safe. Seriously.
Review of more than 20,000 scientific titles and 67 papers finds no evidence linking vaccines, autism
Jen Christensen and Nadia Kounang | 7/3/2014, 6 a.m.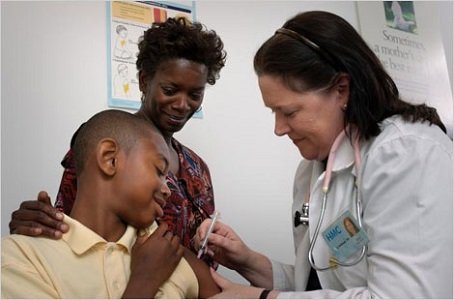 (CNN) — Children should get vaccinated against preventable and potentially deadly diseases. Period.
That's what a project that screened more than 20,000 scientific titles and 67 papers on vaccine safety concludes this week. The review appears in the latest edition of the medical journal Pediatrics.
The evidence strongly suggests that side effects from vaccines are incredibly rare, the study authors said. They found no ties between vaccines and the rising number of children with autism, as a small but vocal group of anti-vaccine activists, including actors Jenny McCarthy and Jim Carey, have said.
The review also found no link between vaccines and childhood leukemia, something that was suggested in earlier studies.
The researchers found that some vaccines did cause a few adverse effects but it was only for a tiny fraction of the population.
There was evidence that the meningococcal vaccine can lead to anaphylaxis -- a severe, whole-body allergic reaction -- in children allergic to ingredients in the vaccine. Other studies found the MMR vaccine was linked to seizures.
"Vaccines, like any other medication, aren't 100% risk free," said Dr. Ari Brown an Austin, Texas-based pediatrician and author of the popular book "Baby 411," who was not involved with the study.
"You have a sore arm, redness at the injection site. Those are the things we see commonly. Fortunately the serious adverse effects is extremely rare."
Brown said parents ask her how safe vaccines are all the time. Some patients also ask if they should delay or stagger the vaccinations. She counsels against that practice. She said the younger the child, the more danger these diseases present.
"By delaying the vaccines you're putting your child at risk," Brown said.
The positive effects of vaccines dramatically outweigh the bad, experts said.
An editorial accompanying the study calls vaccines "one of the most successful public health achievements of the 20th century."
Because of vaccines, many diseases that plagued children for centuries have all but been eliminated.
"There were good reasons that these diseases were targeted for vaccine development since they are so life-threatening," said Dr. Carrie Byington, vice-chair for research in the University of Utah's pediatrics department, and the new chair for the American Academy of Pediatrics committee on infectious diseases.
Millions of Americans live longer on average because of the protection vaccines provide. Life expectancy has gone up in the United States by more than 30 years. Infant mortality decreased from 100 deaths per 1000 to 7 between the 1900s and 2000.
A vaccine for smallpox led the Centers for Disease Control and Prevention to declare the disease eradicated in 1978. Prior to a vaccination for diphtheria, it was one of the most common causes of illness and death among children. Now it is rarely reported in the United States.
Yet research shows there is still doubt among some medical residents about the effectiveness of vaccinations.
"That is particularly concerning for me," Byington said. "Young residents may be in the same position as young parents who have trained at a time, or lived at a time, when these diseases were extremely rare, and they may not have ever seen how serious a vaccine-preventable infection can be."