'Join the Movement' at America's largest FREE arts festival!
7/18/2014, 6 a.m.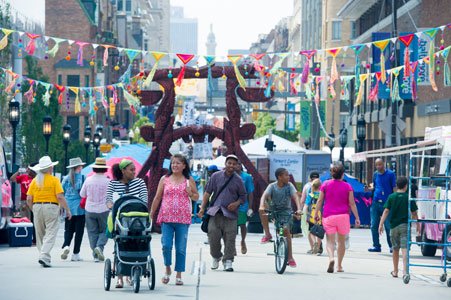 Artscape-goers can experience performances by nationally renowned dance companies at the Modell Performing Arts Center at The Lyric. Ballet Memphis performs award winning selections choreographed by Julia Adam & Trey McIntyre. Adam's ballet, Devil's Fruit will be presented as well as McIntyre's In Dreams. Las Vegas Contemporary Dance Theater, with artistic director Bernard H. Gaddis, will perform selections from its extensive and exciting repertoire including Vespers, Firebird and Phib.

On Charles Street, "Field Day" offers attendees hands-on fun. The exhibition is comprised of a collection of participatory games, activities, performances and competitions designed by artists. The featured games are "SuperGame!," "Pizza Party Twister," "HopsXotch Rivalry," "The Amazing Art Race," "10,000!," "Little Lord Baltimore" and "Choose Your Own Reuse Adventure." Games can be experienced as a viewer or participant.
On Friday and Saturday night, the fun keeps going, even after the festival closes! Artscape After Hours takes place from 9 p.m. to 11 p.m. Charles Street, from Preston Street to North Avenue, transforms into an oversized after-party with live DJs, LOL@Artscape hosted by standup comedian Ben Rosen, a 90-foot Ferris Wheel of Lights, and much more!
The Janet & Walter Sondheim Artscape Prize Semi-Finalists Exhibition features work by artists whose work was reviewed in the second round of the Sondheim competition. The exhibition includes artists working in a wide variety of mediums and is located in the Decker Gallery, Meyerhoff Gallery and Pinkard Gallery of the Maryland Institute College of Art. Exhibited with the Semi-Finalists Exhibition is the winner of the Fred Lazarus IV Artscape Prize ("The Fred"): Malcolm Colvin Mclurg, Baltimore School for the Arts.
Gamescape moves to a new location in the old Single Carrot Theatre (1727 North Charles Street). In the expanded space, the interactive visual arts exhibition continues to showcase video games and the talented artists, developers and designers who create them. Gamescape lets festival-goers control the screen and includes classic arcade machines, video game demonstrations and panels on game development and design. The exhibition remains open during Artscape After Hours, featuring live performances of video game music.
Artscape visitors can also take in an eclectic offering of theater and opera performances, along with folk, a cappella, classical and organ concerts from regional artists and companies. Highlights include The Stoop Storytelling Series, Baltimore Concert Opera, OrchKids, The Lyric Opera, Ocho Bajos, Reverse Cascade, The Original Little Ark Male Chorus, Bach in Baltimore and Heart of Maryland Barbershop Quartet. These performances take place at the Brown Center, Theatre Project and Corpus Christi Church.
Budding artists have an area to call home at Kidscape! Artscape's youngest visitors and their families can participate in hands-on activities and performances all weekend. The new Get Up and Move Stage presented by Walmart features kid-friendly concerts, dances and lessons. Craft and other workshops are offered by Baltimore City Recreation & Parks, Bmore Buttons, The Walters Art Museum, Port Discovery Children's Museum, Dance & Artistic Expressions Studio, Junior League's Kids in the Kitchen and Planet Awkward.