Controversial film 'Half of a Yellow Sun' debuts in Nigeria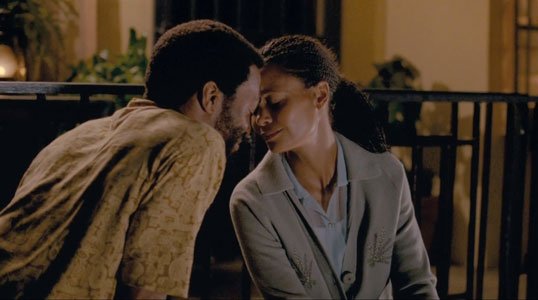 The Nigerian government finally will allow its citizens to see what Americans and others have called one of the unsung movies of the year.
The film, "Half of a Yellow Sun," which premiered at festivals around the world in 2013, will be available on DVD in Baltimore and throughout the country on August 1, 2014.

"This movie is a sort of love story, a love letter to Nigeria's very complex and complicated history," said Biyi Bandele, the film's Nigerian-born director.
Based on the book of the same name, the 111-minute film stars, "12 Years a Slave," actor Chiwetel Ojiofor, and Thandie Newton, whose credits include, "The Pursuit of Happyness," "Mission Impossible II," and "The Chronicles of Riddick."
"Half of a Yellow Sun," follows the life of two sisters, Olanna and Kainene, who return home to Nigeria in the 1960s where they soon follow different paths. As civil war erupts, political events loom larger than their differences as they join the fight to establish an independent republic.
While government censors in Nigeria initially objected to the film, fans and critics around the globe praised the suspense-filled movie, which will premiere in Nigeria on August 1, 2014.
"Those who know Ejiofor from '12 Years a Slave' should see him here to experience his range," said New York Daily News film critic Joe Neumaier. "In '12 Years' we saw a world of emotion play across his face. In 'Half of a Yellow Sun,' his performance as a volatile, revolutionary, conflicted professor shows other aspects of this great actor's talent."
Sandra Lovejoy, a local resident who watched the movie on YouTube, says it's a tear-jerker.
"I've seen better movies, but I haven't seen too many that have been more emotional than this one. It really grabs you and you can't be human if you don't start caring about these sisters and the other people in this movie," said Lovejoy, 37.
The movie was adapted from the novel by award-winning writer Chimamanda Ngozi Adichie, a Nigerian native whose work has been nominated for the Caine Prize for African Writing and her work has been selected by the Commonwealth Broadcasting Association and the BBC for short story awards.
The book sold millions of copies since its release in 2006 and producers of the film says that many more millions of illiterate Nigerians will now be able to appreciate it because of the movie.
Many native Nigerians have already expressed their excitement about the film.
"Most of us will have little knowledge of the Biafra war, except, possibly, for the media's haunting images of starving children," Friederike Knabe of Nigeria posted on the movie's webpage. "This tells the real story."
The plot cannot be condensed into one theme or story, says Patricia Fletcher, another local resident.
"It's about loving someone with whom you have real and painful differences— the heartache and the companionship and, ultimately, the acceptance of each other and the love," Fletcher said. "It is about how disparate members of a family cope with plenty and with poverty. It takes you into the war for Biafra and the details are harsh, stark, and they make you pause."