Device can save thousands of children from drowning
Special to the NNPA from the San Diego Voice & Viewpoint | 6/2/2014, 6:24 a.m.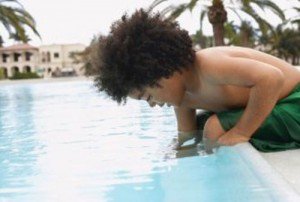 continued — "I started inquiring into the lives of African American families, within my church and in the community and I found that many African American families have had a cousin, sister, or close friend who has drowned – but yet, nobody ever reports that this is a problem. This is an unaddressed problem in the African American community."
Pastor McKinney's father, Bishop George D. McKinney, is a proponent of teaching youth to swim, taught Pastor McKinney and his siblings to swim at a young age. Pastor McKinney carries this sentiment with him, which helped guide him to the creation of AJADD.
According to the Centers for Disease Control and Prevention, 80 percent of people who drown are male. Children ages 1- 4 have the highest drowning rates and most of those drownings occur in homes or swimming pools. The disparity is widest among children 5 – 14 years old. But what is most discouraging is that the fatal drowning rate of African American children in this age group is almost three times that of white children.
"Factors such as access to swimming pools, the desire or lack of desire to learn to swim – which usually comes from their parents – they don't want to get in the water, and choosing water recreational activities, contribute to these statistics," said Pastor McKinney. "In the poorer communities, we don't choose water-related activities. So we're not accustomed. We get out there and we're not used to it, and we get in trouble. Choosing water-related activities contributes to the racial differences in drowning rates."