Movie inspires students to think about college
Jazelle Hunt | 6/4/2014, 10:02 a.m.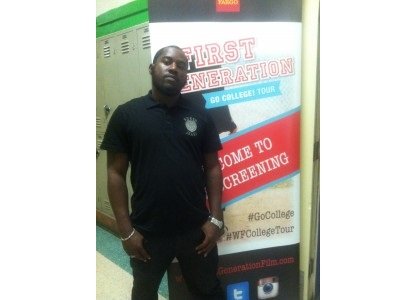 WASHINGTON (NNPA) — Every day of Dontay Gray's senior year began at 5 a.m. The early start gave him enough time to catch the two buses and two trains to David Starr Jordan High School in Long Beach, California.
Although his family had moved a 90-minute commute away, Gray had his reasons for finishing high school at Jordan. He wanted to make a name for himself on the nationally-ranked football team, in hopes of earning a scholarship and becoming the first person in his family to attend college. If the sports angle didn't work, he had been doing well academically, slowly raising a 2.8 GPA with a semester full of As and Bs. Plus, it was the first school he had attended since serving his sentence for gun possession in tenth grade.
"I started my road to college my 11th grade year. It's never too late," says Gray, now a senior at California State University, Sacramento. "It doesn't matter where you come from, where your family is from, or what you've been through. College is for everybody."
Gray is one of four students profiled in a new documentary titled, First Generation. The film seeks to shed light on the college access gap, which is often widest for those who are first in their families to pursue higher education.
According to the National College Access Network, full college access is achieved when every student receives sufficient academic preparation and personal support, to begin, and successfully complete post-secondary education. NCAN reports that only8.3 percent of low-income students earn a bachelor's degree by age 24 (compared to 73 percent of students from high-income families).
"Both my parents went to college and both their parents went to college. My parents hired a private counselor for me because they knew my public school wasn't helping me," says the film's co-director, Adam Fenderson. The genesis of the film came through his wife and co-director Jaye, who was a low-income student at Columbia University, and later became an admissions officer for the school. According to Jaye, the handful of applications from low-income students simply couldn't compete with the gilded submissions from more well-off students.
Adam explains, "I had a lot of support and it was something I took for granted as a kid. For people [like me], it's hard to teach them that that's not necessarily normal, and that's not necessarily what others are dealing with."
One of the film's goals is to show how complex the college access problem can be; a range of factors contributes to the disparity. NCAN cites rising tuition costs; the confusing, unstandardized admissions process; application fees; lack of academic and emotional support; and, a 471-to-1 average ratio of students to guidance counselors.
On top of this, would-be first generation students may never even consider college as a viable option.
"For [first-generation students] college is a foreign thing. Nobody in your immediate family knows about it, most of them didn't finish high school," says Gray, adding that he had thought the only people who could go to college were wealthy, or had exceptional grades.