Movie inspires students to think about college
Jazelle Hunt | 6/4/2014, 10:02 a.m.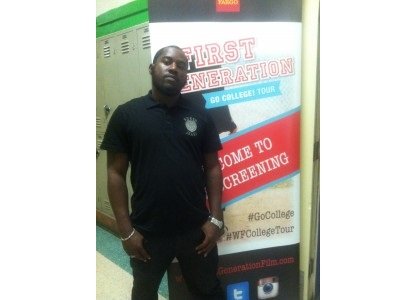 continued — After being released from juvenile hall, he was connected with a mentor who was the first to suggest college as an option for him. "Your family doesn't know, so they can't tell you. So they don't talk about it, so you never bring it up. And in not talking about it, you start to figure it's OK not to go to college. Nobody else went, and they seem fine. The less you talk about it, the less you plan to go."
Although most of the parents in the film were excited about the prospect of their child going to college, unmistakable worry lurked below their smiles. During the film, one mother (who did not complete high school), burst into tears while setting up the Christmas tree, torn between having to say goodbye, and the prospect of not being able to afford the opportunity.
Another mother (and widow) quietly asked her slightly more-knowledgeable son whether she would need to pay for all four years at once. Gray's mom, who had beaten a drug addiction but was unemployed during applications season, simply quipped, "We'll figure it out."
Most first-generation students are part of low-income or middle-class homes that cannot afford any college costs out-of-pocket.
"[The cost] was one of the biggest problems I had on my mind. I was broke. My family couldn't pay a dime, and that's when they told me about the FAFSA," Gray says. The Free Application for Federal Student Aid lays out a family's income information (as reported to the Internal Revenue Service), and the government, schools, and organizations use it to gauge how much financial help will be given, based on need. "If I didn't know about that, I wouldn't have even applied for college. I wouldn't want to put my mom through that, I'd rather go to work to help her out."
This deal-breaking level of concern is not unfounded. College costs are rising across the country, particularly at public four-year institutions, which tend to attract low-income and first-generation students.
As a result, grants and scholarships (if a student is even aware of them) don't cover as much, and families take on loans to supplement. The Center for American Progress reports that 81 percent of Black students who earned a bachelor's in 2012 had student debt, with 27 percent of them responsible for repaying $30,500 or more.
The dark cloud of college cost begins to overshadow the other factors in choosing the right college. This overshadowing leads to "poor matching," which occurs when students, especially first generation students, assume they won't be able to attend their personal-first-choice school (or even upper-tier schools they hadn't considered) because of finances and/or grades. So they set their sights lower.
All four students in the documentary fell prey to this in some way. Gray, for example, originally wanted to attend Clark Atlanta University, but was discouraged by the application question that inquired about his criminal record.
"Students who end up over-qualified for their college get less rigorous training than they might during their time in college," states a 2009 study by researchers at the University of Michigan. "This may lead to lower earnings once they enter the market, and is an inefficient use of educational resources, since some of our most able students are not being pushed to expand their knowledge and skills."
With demand for skilled workers on the rise and the United States plummeting in international education and economic rankings, the underdevelopment of these talented students may stunt national growth.
Adam and Jaye have partnered with Wells Fargo to take First Generation on the road as part of a "Go College!" Tour, screening the film for high school students and education advocates. Adam says, "For students in high school who feel like they can't make it to college because of their circumstances…seeing the kids [in the film] make it in their own way gives them hope, a sense of power."