Award-winning journalist talks about old and new struggles
Ursula V. Battle | 6/6/2014, 6 a.m.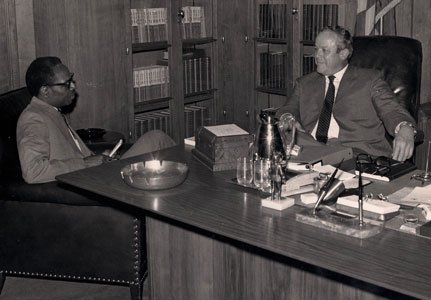 This is part III of a three-part series on longtime journalist Moses J. Newson. Earlier this year Newson was inducted into The National Association of Black Journalists (NABJ) 2014 Hall of Fame earlier for his outstanding contributions to the industry.
Moses J. Newson, 87, has interviewed and covered some of the most memorable figures and events of the Civil Rights Movement. Reflecting back over his historic career, Newson chuckled as he recalled a story he wrote in 1961 regarding a U.S. Civil Rights Commission hearing held in New Orleans, La.
"I agreed to cover a story on voting rights for the U.S. Civil Rights Commission," recalled Newson. "There was a white voter registrar who kept testifying over and over again that whites could pass the voting tests, but blacks could not. Eventually, the Civil Rights Commission lawyers put her on the stand. Well, she couldn't answer the questions either. She flunked the test on the witness stand."
The bold headline that accompanied Newson's article read: "Dixie Vote Official Flunks Own Test."
"That was pretty big news," said Newson. "The results of those tests were being used to justify why blacks were not eligible to vote. Folks like this registrar and others controlled the apparatus and were getting away with things like this."
Newson has seen many changes concerning Civil Rights and the struggle for equality during his lifetime. He has seen blacks go from being denied the right to vote, to having the right to vote. He has seen blacks go from segregated buses, restaurants, schools, and restrooms, to desegregated buses, restaurants, schools, and restrooms.
"After the fight that went on for voting rights, education, and other things, it's unimaginable to me that people don't think it's important to get people into office that would be inclined to help them, their children, and their country," said Newson. "It bothers me a great deal when blacks don't vote, and seems so incredible that so many people seem to look past the price that so many people paid to get us to where we are now."
From 1952 until1957, Newson worked for the Tri-State Defender of Memphis, Tenn, the southern outpost of The Chicago Defender. Newson served in the capacities of Reporter and City Editor. From 1957 until 1978, Newson worked for the Baltimore AFRO-American Newspapers, serving as reporter, city editor, and executive editor.

Newson was among four black newsmen attacked by a mob at Little Rock Central High School in 1957, before President Dwight Eisenhower sent in federal troops to restore order. The president's unprecedented action meant that violence would no longer be allowed to prevent school desegregation. During the time, Newson was covering the "Little Rock Nine," the nine African American students involved in the desegregation of Little Rock Central High School.
"We shouldn't have the drop-out rates like we have in our schools now," said Newson. "We still have problems, because the schools are still not equal. Some mornings I walk up to Mondawmin Mall, and people are already standing outside the liquor store. Somehow, someway, we have to understand that getting ahead requires some kind of effort. However, the economic situation contributes to a lot of it. But, you can't wish things away, ignore the situation, and settle disputes by resorting to violence. In 2014, that's something people should understand."