Award-winning journalist talks about old and new struggles
Ursula V. Battle | 6/6/2014, 6 a.m.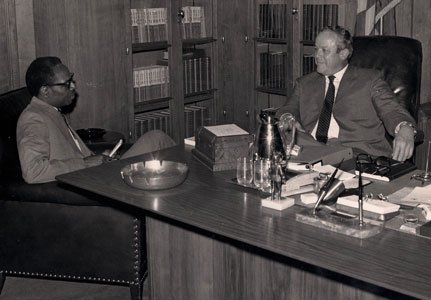 He added, "Some may take it slow, but you only have so many days on this earth. People can't believe that everything that has to be done, has been done. We have to take advantage of the opportunities that we have."
Newson talked about President Barack Obama.
"Things were so bad at one time, it was hard to imagine we would one day have a black president. As blacks, we have made a lot of progress, but still have a lot of work to do."
Newson is a native of Fruitland Park, Florida and has been married for 65 years to his wife Lucille. The couple have four adult daughters. He served in the U.S. Navy from 1945 until 1947, and later received his bachelor's degree in journalism from Lincoln University in Jefferson City, Missouri.

He also worked as a public affairs specialist for the Department of Health and Human Services from 1978 until 1995. He also writes periodically for The Baltimore Times.
On January 16, 2014, Newson was inducted into the National Association of Black Journalists (NABJ) Hall of Fame for his outstanding contributions to the industry. He was honored during a special ceremony held at The Newseum in Washington, D.C.
"What I tried to do during my career, was to make some sort of contribution by helping to create a history of what was happening, and what people had to overcome to bring about the progress we have seen," said Newson. "If you look at the media during the Civil Rights era, there were some who were trying to block Civil Rights for all."
He added, " It was important for me to get out there and help to record the history of the efforts of these younger and older people. I appreciate the fact that I had an opportunity to do that through the AFRO, The Chicago Defender chains, and now The Baltimore Times."