Film Review: 22 Jump Street
Dwight Brown | 6/12/2014, 6 a.m.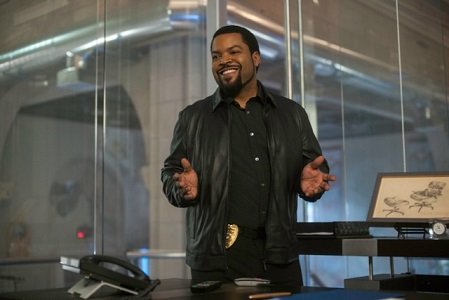 (NNPA) — The film 21 Jump Street was a hip, focused, comic homage to the 1980s TV series. 22 Jump Street is an unfocussed potpourri of physical humor, sight gags and shtick that is shamelessly uproarious.
In this sequel, undercover cops, Officer Schmidt (Jonah Hill) and Officer Jenko (Channing Tatum), who are in their 30s, infiltrate a college campus masquerading as students to investigate the death of a coed who died from a new designer drug called WHY PHY. The guys stick out like the Golden Girls at a rave. They're almost old enough to have grandchildren. Can they get over on savvy adolescents?
The only way to make this premise work is to ignore the obvious or embrace it. The creative team of writers (Michael Bacall, Oren Uziel, Rodney Rothman) and directors (Phil Lord and Christopher Miller, 21 Jump Street, Cloudy with a Chance of Meatballs) judiciously decided on the latter. They officially make this ribald comedy, a spoof on a spoof using a we're-making-fun-of-ourselves, kitchen-sink approach to the humor. The guys are repeatedly called out by students for their crow's feet and puffy, thirtysomething faces. Jenko is dumber than a bedpost ("I'm the first person in my family ever to pretend to go to college.") and Schmidt is too smart and overly sensitive. Visual effects like subtitles and split screens, wacky car chase action scenes with a golf cart pursued by a menacing Hummer and bits where a plump blonde and Schmidt exchange punches in an all-out brawl add to a general tone of total mayhem.
The Jump Street police headquarters have been updated and are quite luxurious. The boys still take orders from Capt. Dickson (Ice Cube), whose cranky demeanor seems to have improved only a tad as he bellows commands from a swank new glass office. Says Schmidt, "It's like a cube, made out of ice." (Wink, wink). As the undercover dicks start their campus investigation, they take on the guise of two brothers, "Brad and Doug McQuaid." Like most freshman they fall into cliques. Jenko becomes BFFs with frat president and handsome quarterback Zook (Wyatt Russell, Kurt Russell and Gold Hawn's offspring). Schmidt hangs with bohemian nerds who are into slam poetry and becomes romantically infatuated with the very sexy Maya (Amber Stevens, The Amazing Spider-Man). He's in love; she's only into hookups.
The investigation continues and all suspects, crooks, drug deals and roads lead to spring break in a Mexican beach town (which looks suspiciously like San Juan, Puerto Rico). Queue the climatic music (Mark Mothersbaugh composer), alert the cinematographer (there's a high-flying helicopter sequence for Barry Peterson director of photography), tighten the editing (Keith Brachman and David Rennie)—this is going to be a bumpy ride.
The chemistry between Tatum and Hill seems comfortable and genuine, like Laurel and Hardy or Abbott and Costello. They are in sync and improvise well together. As Jenko's budding friendship with Zook blossoms, Schmidt feels left out. Tatum and Hill play the on-the-ropes bromance in need of couples' counseling to the hilt. Their I'm-so-into-you, you-hurt-my feelings, maybe-we-should-move-on emotional roller coaster is pukey sentimental and comical. Hill is deadpan serious throughout, and Tatum's dumb jock rants are just as funny.