Ray Boone, crusading editor, journalist dead at 76
Jeremy M. Lazarus | 6/13/2014, 6 a.m.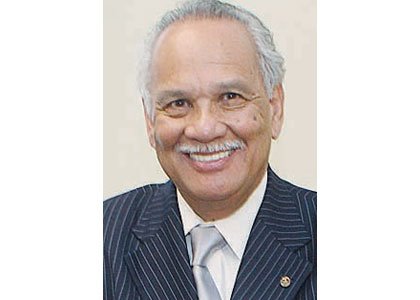 continued — He followed that mantra, absorbing books and becoming a walking encyclopedia of Black history. Boone said his interest in journalism developed after one of his teachers "told me I could write."
He took his biggest step into a newspaper career when he approached the local newspaper, the daily Suffolk News-Herald, about writing stories about sports at the Black high schools. His stories began appearing on the sports pages, a first for news about the Black community, all of which had previously been relegated to the "colored" pages.
After earning his degree, he went to Tuskegee, Ala., to work as director of public information. Called into service, he joined the Baltimore Afro-American after he was honorably discharged and became the White House reporter for then one of the largest Black-owned papers in the country.
In 1965, he was sent to Richmond to become the editor of the paper's Richmond edition and began his rise to prominence. He quickly became a partner with the founders and leaders of the Richmond Crusade for Voters, in an effort to boost the influence of the Black community on the political stage.
Boone would go on to become vice president of the Afro-American chain where he was responsible for multiple editions. Time magazine credited him with bringing "sophistication and verve" to the Black press.
He was proud of sending Afro-American reporter William Worthy to Iran after the overthrow of the shah to provide reports on the revolution. By 1981, Boone moved on to teach journalism at Howard university in Washington before returning to Richmond in 1992 to begin his own newspaper.
While serving as a Pulitzer Prize juror on two separate occasions, he spearheaded a successful effort that resulted in the placement of African Americans and women on the Pulitzer board at Columbia University. He had contacts galore across the country as a life member of Kappa Alpha Psi Fraternity, the National Association of Guardsmen, the National Newspaper Publishers Association and many other organizations.
Along with his wife and daughter, survivors include his son, Raymond H. Boone Jr., Free Press director of account resolution and new business development; his grandson, Raymond H. Boone III; a sister-in-law, Phyllis Riley; seven aunts, one devoted, Dorothy Boone of Suffolk; two uncles; a half-brother, Thurman Boone of Suffolk; four half-sisters, Geneva B. Boone, of Hopewell, Geraldine Boone Clark of Richmond, and Ira Boone and Lolethia Boone, both of Suffolk, and many other cousins, nieces and nephews.