Legendary radio personality Casey Kasem dies at 82
He was born Kemal Amin Kasem and became a DJ while in the Army
6/16/2014, 6 a.m.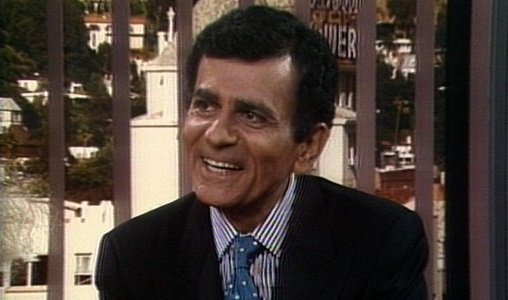 CNN — Casey Kasem, who entertained radio listeners for almost four decades as the host of countdown shows such as "American Top 40" and "Casey's Top 40," died early Sunday, according to a Facebook post from his daughter Kerri Kasem.
The news was confirmed by Casey's Kasem's agent, Don Pitts, who added that a memorial service will be held Friday.
Casey Kasem was 82 and had been hospitalized in Washington state for two weeks.
"Early this Father's Day morning, our dad Casey Kasem passed away surrounded by family and friends," Kasem's children -- Kerri, Mike and Julie -- wrote in a statement released by Kasem's representative, Danny Deraney.
"Even though we know he is in a better place and no longer suffering, we are heartbroken ... The world will miss Casey Kasem, an incredible talent and humanitarian; we will miss our Dad."
Kasem's longtime friend, Gonzalo Venecia, and his younger brother, Mouner Kasem, were also with him when he died at St. Anthony's Hospital in Gig Harbor, Washington, at 3:25 a.m. Sunday, a family member said.
Casey Kasem had been suffering from Lewy body disease, the most common type of progressive dementia after Alzheimer's.
He had recently been the subject of a bitter court battle involving three of his children by a previous marriage and his wife, Jean.
His oldest children, who challenged their stepmother for control of Kasem's medical decisions in his last months, are not fighting his wife for possession of his remains, a family member told CNN Sunday.
Daughter Julie Kasem will host a memorial celebration at her Northridge, Caifornia, home n Saturday, June 21, the family member said. No other funeral arrangements were yet known.
No autopsy is expected since Kasem died under a doctor's care in a hospital. The immediate cause of death was from sepsis caused by an ulcerated bedsore, the family member said.
In May, a California judge awarded Kerri Kasem temporary power of attorney after Jean Kasem took her husband out of a nursing home and moved him to Washington amid family feuding.
A Washington judge later allowed Kerri to visit her father in that state.
Casey Kasem was hospitalized after an argument between Jean and Kerri in which his wife threw meat at her stepdaughter.
Last week, a Los Angeles County judge gave daughter Kerri Kasem the authority to have doctors end his infusions of water, food and medicine.
Kasem was already a popular disc jockey in Los Angeles when he became the host of "American Top 40" in 1970. The syndicated show, which counted down the 40 most popular songs in the United States based on Billboard magazine's Hot 100 music chart, began on just seven radio stations but quickly became a mainstay of thousands, all around the world.
"When we first went on the air, I thought we would be around for at least 20 years. I knew the formula worked. I knew people tuned in to find out what the No. 1 record was," he told Variety in 1989.