Legendary radio personality Casey Kasem dies at 82
He was born Kemal Amin Kasem and became a DJ while in the Army
6/16/2014, 6 a.m.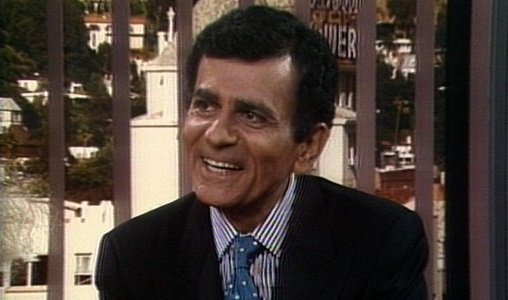 continued — But the show wasn't just about finding out who was No. 1.
Its features, included biographical details on performs, flashbacks, album cuts and Kasem's "long-distance dedication" for listeners who wrote to dedicate songs to friends and loved ones far away.
Kasem, whose baritone was always friendly and upbeat, delivered these in his most sympathetic voice, warm enough to melt butter. "Dear Casey," he began, and would read an emotional letter from a listener who wanted to connect with an old flame, express regret to a new love or send wishes to a far-flung family member.
The first one, for example, was from a male listener who wanted to dedicate Neil Diamond's "Desiree" to a sweetheart named Desiree who was moving to Germany.
The show, originally three hours, expanded to four in the late '70s.
In many ways, even as Top 40 radio moved from the AM to the FM dial and took on the name "Contemporary Hit Radio," "American Top 40" remained a throwback to the way the format was in the 1960s, with frequent number jingles ("Number 29!") and a fast-moving mix, though Kasem, in temperament, practically defined the laid-back hosts of the Me Decade. (The exception to the laid-back rule was a much-copied outtake, now readily available on the Internet, of Kasem exploding in anger over a long-distance dedication that succeeded an up-tempo record.)
The show inspired several imitators, including a television version, "America's Top 10," hosted by Kasem himself.
Kasem left "American Top 40" in 1988 over a contract dispute with ABC Radio Networks and signed with competitor Westwood One, for whom he started a show called "Casey's Top 40" in 1989. The new show used a different publication's chart, but it was the same old Casey: smooth, cheerful, full of information.
"The magic of Casey is that he is the ultimate professional in whatever he does. ... He enlightens, he explores, he suggests, he provokes and he informs," fellow DJ Gary Owens told Billboard in 1997.
Kasem acquired the name "American Top 40" and in 1998 resumed hosting the program with a new syndicator. (The ABC show, with Shadoe Stevens replacing Kasem, had been canceled in 1995.) He handed off to Ryan Seacrest in 2004, though he continued with two other shows, "American Top 20" and "American Top 10," until signing off in 2009 -- as always with his trademark line, "Keep your feet on the ground, and keep reaching for the stars."
Kemal Amin Kasem was born in Detroit in 1932. He first tried radio while in high school but found he had a talent for it while serving in Korea with the Army. He was a DJ on the Armed Forces Radio Network.
After stops in several cities, including Flint, Michigan; Buffalo, New York; and San Francisco, he joined KRLA in Los Angeles in 1963, partly in hopes of an acting career. He did earn roles in a number of low-budget movies -- the most famous of which was probably "The Incredible 2-Headed Transplant" (1971) -- but his voice was always his ticket to fame, whether appearing on a Dick Clark-produced TV show, "Shebang," or voicing the character of Shaggy on the cartoon "Scooby-Doo," which premiered in 1969. (He also was the voice of Robin on "Super Friends.")
That voice became ubiquitous. He was NBC's promotional announcer in the late '70s and early '80s, and heard on dozens of commercials.
But "American Top 40" remains his legacy.
"Kasem started the show in 1970, a curious time to start a show about Top 40 mainstream pop, because the format had just been pronounced dead and progressive album-oriented radio was on the rise," wrote Susan Orlean in a 1990 New York Times Magazine profile. "He infused the show with corny reverence for conventional American values exactly when cynicism had become the more fashionable posture."
Kasem attributed his success to that everyday voice.
"It's not a clear-toned announcer's voice," he told the Times. "It's more like the voice of the guy next door.''
Kasem is survived by his second wife, Jean, whom he married in 1985; and four children.
CNN's Alan Duke and Steve Forrest contributed to this report.