The rise of the civil rights museum
Jamie Gumbrecht | 6/25/2014, 6 a.m.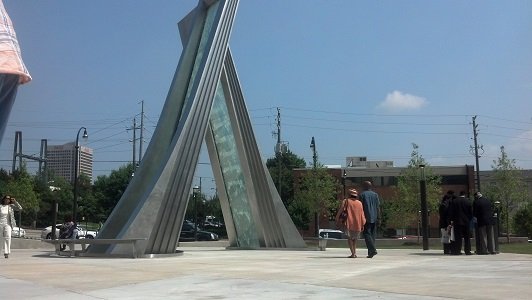 "Atlanta has claimed a position for itself, historically, as a place where people grapple with human issues, fairness issues, justice issues. Atlanta has claimed its history for itself."
The links weren't so clear to everyone. It took time to convince people -- including other civil rights activists and potential donors -- that the voting rights marches and church bombings of the 1960s were tied to modern, global issues like child slavery and immigrant rights.
The $103 million museum contains large galleries devoted to both, and space to grow as the stories evolve, center director Doug Shipman said. Through original artworks and interactive displays laden with video and audio, museum leaders hope visitors will consider where they fit into civil rights history and how they can impact human rights issues today.
This could be a first taste of civil and human rights understanding for many visitors to the tourist-heavy area where the museum stands, Shipman said. It's located beside the Georgia Aquarium and World of Coca-Cola, in eyeshot of a large Ferris wheel and fountains often packed with gleeful children.
Shipman said they wanted the center to appeal not just to those who remembered the history it captures, but also to the 22-year-olds who can't imagine it. He wants to hear grandparents sharing their protest memories and teens explaining their school campaigns against bullying. Visitors can tour museum exhibitions designed by Tony Award winner George C. Wolfe and human rights activist Jill Savitt in as little as 75 minutes. Another gallery displays a rotating collection of Martin Luther King, Jr.'s personal papers, which are housed at nearby Morehouse College.
The exhibits could be the gateway that leads visitors a few miles away to the historic Sweet Auburn district, King's birth home or the Jimmy Carter Presidential Library and Museum, Shipman said.
"This was trying to bring the stories to people who might not find them otherwise. Stories are the most powerful tools," Shipman said. "If someone goes to one (attraction) and they're inspired, it makes them more likely to go to another.
"Civil rights and human rights should be Atlanta's signature, destination topic, like New Orleans and jazz."
'It's not over'
Around the country, other cities are sharing their stake in the same story. Many realized they were losing the opportunity to capture the memories of those who witnessed the civil rights movement and were coming up on milestone anniversaries that would spur conversations around "freedom summer," school desegregation, civil rights policy and touchstone events of the civil rights movement.
The Smithsonian National Museum of African American History and Culture is scheduled to open in 2016 on a five-acre tract on the National Mall in Washington.
In Memphis, the National Civil Rights Museum -- the former Lorraine Motel, where Martin Luther King, Jr. was killed -- reopened in April after a $28 million renovation, including new, interactive exhibitions.
The International Civil Rights Center and Museum opened in Greensboro, North Carolina, in 2010 to showcase the site where four black students sat-in at a whites-only Woolworth's counter in 1960. Jackson, Mississippi, broke ground last year on a civil rights museum to sit beside a forthcoming state history museum. Charleston, South Carolina, is planning an International African American Museum.