Comcast extends national broadband adoption program
Ursula V. Battle | 3/7/2014, 6 a.m.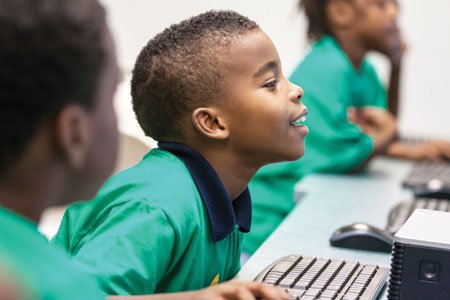 BALTIMORE — Comcast recently announced that the company is extending its Internet Essentials low-income broadband adoption program. During the March 4, 2014 announcement, Comcast Executive Vice President David Cohen highlighted why the nation's largest video, high-speed Internet and phone provider decided to extend the program beyond its initial three-year commitment. He also noted the initiative directly supports President Obama's ConnectEd goal of connecting 99 percent of U.S. students to Internet service in the classroom within five years.
"In just two and a half years, this groundbreaking initiative has connected more than 1.2 million low-income Americans, or 300,000 families, to broadband Internet at home," said Cohen. "We are also proud to join President Obama's call to action for helping to realize his ConnectED educational goals as we announce today an extension and enhancement of our multi-year commitment to close the digital divide. Here at Comcast, addressing the digital divide head-on has long been a priority for our company. We believe the Internet has the power to transform lives, strengthen communities, and inspire a new generation of leaders."
According to Comcast, Internet Essentials is the nation's largest and most comprehensive broadband adoption program. It provides low-cost broadband service for $9.95 a month plus tax; the option to purchase an Internet-ready computer for under $150; and multiple options to access free digital literacy training in print, online, and
in-person. Internet Essentials has linked more than 24,400 low-income Maryland residents or around 6,100 families from across the state to broadband Internet access and digital literacy training.
Cohen also announced more than $1 million in grants to dozens of non-profit organizations across the country to create Internet Essentials Learning Zones. These networks of non-profit partners will work together to enhance public Internet access and increase family-focused digital literacy training.
The grants are part of a multi-faceted Gold Medal Recognition Program for communities that have done the most to help close the digital divide. The Baltimore County Public School system has been honored with Gold Medal recognition for driving substantial year-over-year increases in Internet Essentials enrollment.
"We would like to thank Comcast for this recognition and for their assistance to families in Baltimore County," said Dr. Dallas Dance, Baltimore County Public Schools Superintendent. "Providing home Internet service at an affordable rate is critical to ensuring our students can access helpful online learning resources beyond the classroom. This is how we will prepare them for their future and to be globally competitive."
As a result of Baltimore County Public Schools' Gold Medal Recognition, Internet Essentials-eligible families in Baltimore County can receive six months of complimentary Internet service if they apply and are approved for the program by Tuesday, March 18, 2014.
"I'm grateful to Dr. Dance, his team at Baltimore County Public Schools and Comcast for working to empower local families with broadband access," said Baltimore County Executive Kevin Kamenetz. "Any time the private sector steps forward to increase access to the digital world for more students, it is beneficial for everyone."
With Baltimore County Public Schools' noteworthy selection, Comcast is pushing to ensure that Baltimore County residents take advantage of the opportunity to receive six months of complimentary Internet service.